Lace vs Velcro Climbing Shoes: Useful Guides and Tips
Lace vs Velcro climbing shoes? That is the question for most climbers, mountaineers, or hikers when it comes to their climbing shoes.
Lace climbing shoes have a more snug fit, however, they are harder to put on and take off. Velcro climbing shoes are easier to get in and out of but don't offer as much support or protection from objects that may poke through your shoe.  When deciding what type of climbing shoe you want, it is important to consider how often you climb, where you climb most often at, and what features are most important for your current needs.
Bonus Read: Can rock climbing shoes get wet
Choice of Lace-up or Velcro Climbing Shoes Depends on Climbing Track
When you're first starting on a climbing wall it's best to start with Velcro climbing shoes and gradually move into lace-up versions as your skills develop.
You can rock climb wearing any shoes you prefer. However, some types of rock climbing require the use of certain rock shoe types. It is always best to wear rock shoes that fit the kind of rock track you will be climbing on.
Velcro climbing shoes are easier to get in and out of but don't offer as much support or protection from objects that may poke through your shoe.  When deciding what type of shoe you want, it is important to consider how often you climb, where you climb most often at, and what features are most important for your current needs.
It is sometimes difficult for beginners to do crack climbing with Velcro climbing shoes as the straps are often undone during the adventure of rock climbing. This happens if you're flailing, jamming improperly, or have a big enough crack that it's smooth sailing anyway.
Also, cracks eat Velcro shoes pretty quickly. When you twist your feet for jams, the cracks rub the velcros pretty harshly. So, for a beginner, it is quite difficult to do crack climbing with Velcro shoes.
I found this comment by a person on Reddit:
Depends on what kind of climbing you are doing. I am getting into crack climbing and I messed up my velcro pair with bad footwork on some fist and of-width cracks. Picked up a laced pair and did not have the same problem. It may have been a result of footwork, but the laces seem a bit more robust to wear and tear.

Reddit
Moreover, rack climbing can cause discomfort because it puts pressure on your toes at awkward angles. Lace-up climbing shoes improve footwork in cracks because they allow you to tighten down specific areas of the shoe without cutting off circulation completely.
So, if it's a rock track with lots of cracks or crevices, then your best choice is lace-up rock climbing shoes because they have more padding and offer more support compared to Velcro-style rock climbing shoes which are better for smooth rock tracks where approachability is relatively easier.
So, in essence,
Tighter Velcro for short sport routes and bouldering due to easy on/off ability, lace-up rock shoes for multi-pitch and longer trad.
Also, as you can see in the below picture how the mountaineer is doing trad climbing with lace climbing shoes by jamming his rock climbing shoes in cracks.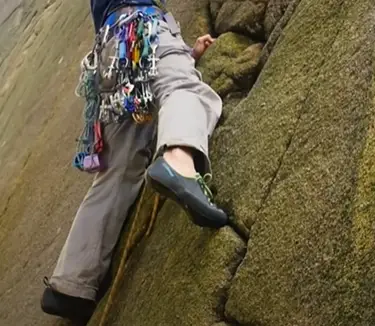 In the picture below, you can see the climber is wearing Velcro shoes for sport climbing.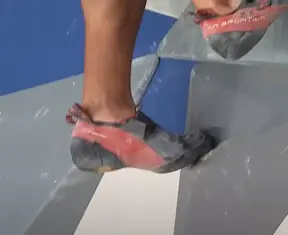 Lace Climbing Shoes Provide Better Flexibility for Fit
The best thing about lace climbing shoes is that they have a more customizable fit. Although Velcro climbing shoes are easier to take on/off, you can get a more dialed-in fit with the lace-up climbing shoes. This is particularly important if you've strange feet.
The foot is a three-dimensional structure. It's not only about length and width that determines the fit of the shoes. If your feet are too wide toe area, if you've too much high instep, or your foot shape has become distorted due to hammertoes or bunions, you can customize your fit with lace-up climbing shoes. You can tighten or loosen them in different places. The laces of climbing shoes fit a variety of foot shapes and offer a more secure fit.
Laces allow you to make micro-adjustments on the fly by tightening or loosening up 1 lace at a time using either one shoelace through 2 eyelets or just 1 eyelet which allows for even less friction giving you that perfect snug fit without having too many pressure points.
This is what a rock climber says about lace-up shoes fit.

Another mountaineer who has narrow heels, but wide forefoot also prefers lace-up climbing shoes. The comment is shown in the snapshot below.

Since the laces extend most of the length of the shoes, they fit different foot shapes more effectively i.e. without any discomfort. In lace-up climbing shoes, there are more points of contact through which you can customize the fit. In contrast to lace-up shoes, Velcro climbing shoes do not offer enough points to offer a glove-like fit. If you've narrow feet with less normal instep height, you're lucky to go with Velcro rock climbing shoes.
Here's a comment I found on Reddit.

Lace-up Climbing Shoes Are Easier to Maintain
With time Velcro rock climbing shoes can lose their effectiveness as they start collecting dirt, sand, and other environmental debris. Then over time, the Velcro straps begin to stretch out making it more difficult to get a tight fit locking down your foot onto the shoe.
Because there is no stretchy material anywhere in the lacing system it provides constant tension throughout its lifespan, unlike Velcro closures which mostly stretch out over time, creating sloppiness.
Laces of lace climbing shoes can rip off due to the friction as you use them in trad climbing. However, the laces can be replaced by new ones. In this way, you can maintain the fit of your lace climbing shoes by putting up a new lacing system.
Lacing Strategies of Climbing Shoes
Now, I will explain to you how to tie your lace climbing shoes properly so they are fitted snugly, which is very important for performance.
If you want to see a video tutorial for the lacing trick of climbing shoes, you can check out this video.
Apart from the lacing trick demonstrated in the above video, there are other lacing techniques as well for climbing shoes.
If you have a too narrow heel, you should try our heel-lock lacing method on your lace climbing shoes. Its lug version is applied in climbing shoes to prevent heel slippage and offer a snug fit. I found this great resource from where you can check out the method of tying the climbing shoelaces according to the lock-lacing method.
If your climbing shoes have simple eyelets, you can follow this version of lock-lacing.
For a more secure fit, you can apply a two-stage shoe knot to your lock lacing. This will prevent one from having to tie their shoes so tight which may result in pressure points and blisters. You can check out this page for a tutorial on a two-stage shoe knot.
Recommended Lace Climbing Shoes
Here are my recommendations for lace-up rock climbing shoes.
La Sportiva Men's Miura Climbing Shoe
Miura Laceups are the most aggressive downturned climbing shoes available. It is a high-performance slipper being manufactured from full-grain leather for improved comfort and durability whilst keeping the shape intended to retain its performance profile for extended periods of time. The outsole has a Vibram XS Edge compound increasing the longevity of this model so you won't have to replace it after few months.
Due to its aggressive shape, it might take some getting used to if you're switching from flat or mildly downturned shoes but even advanced climbers will appreciate the superior performance. Despite being a pretty aggressive shoe it provides a surprisingly decent comfort level without having to size up too much if at all, true to size works fine for the majority of people.
You can check out the video review of Miura climbing shoes in the video below.
Recommended Velcro Climbing Shoes
Here are my recommendations for Velcro climbing shoes.
Evolv Defy
Evolv Defy climbing shoes are suitable for entry-level climbers. The softness of Evolv Defy shoes is nice if you size them correctly. After buying them, walk in them for some time and check whether they fit your feet or not.
They're made with synthetic materials so they're vegan friendly and have a split tongue that makes them easy to put on and take off. The high-volume shape gives your feet maximum comfort, while the opposing closure straps give you maximum tension when climbing.
The shoes have sticky rubber. Defys are good for heel hooking and toe hooking but they are not as durable as La Sportiva.
The downside of Defy is that the stink is really bad. They give off an abominable, putrid, stench after wearing them for a while.
Evolv Shaman
Evolv Shaman Velcro climbing shoes feature a blend of leather and synthetic mesh that molds to your feet well without much stretching. These are great aggressive shoes, made for bouldering. The sole is divided into three regions, which can perfectly mold to the feet.
Lace-up vs Velcro Climbing Shoes: Final Verdict
In the end, I'd say lace-up rock climbing shoes offer a more secure fit, but Velcro climbing shoes are faster to put on and take off. However, at the end of the day, it solely depends on how your climbing shoes fit your feet. For Velcro shoes, you've to swap between several options to find the best for you.
For instance, Evolv Shaman are the best Velcro climbing shoes, but still, several climbers have complains regarding their fit. So, try out the pair of climbing shoes that hugs your feet like a secondary skin.
You can also check out this subreddit in which there is a detailed comment by an experienced mountaineer regarding the selection of Velcro climbing shoes.