5 Best Running Shoes for Achilles Tendonitis in 2023
If you don't have time to go through the whole guide on the top shoes for Achilles tendonitis, I have selected Mizuno Wave Rider 24 as a top pick for the best running shoes for Achilles Tendonitis.
As someone who has personally dealt with Achilles tendonitis, I understand how important it is to find the right running shoes that can provide support and comfort during workouts.
Finding the best running shoes for Achilles Tendonitis becomes a crucial step when there is inflammation of the Achilles tendon that is caused when it is overloaded by repeated activities, such as running or jumping. It can lead to pain, swelling, and stiffness in the back of the lower leg.
Best running shoes for Achilles Tendonitis are those that have a high heel drop (having a high heel height) with supportive cushioning, flexibility, and comfortable padding in the ankle collar for Achilles support, and to avoid inflammation and chafing on the back of the leg and calves.
Moreover, if you overpronate, running shoes for Achilles Tendonitis should have a sturdy heel collar, and medial support so that the lower leg does not rub against the side of the running shoes' ankle collar.
So, through rigorous testing and analysis, I have compiled a list of the best running shoes for Achilles tendonitis that I can personally recommend. By using these shoes, I was able to overcome my injury and get back to running with confidence.
In this review article, you can expect genuine and honest insights based on real experience with these shoes in order to help fellow runners find relief from insertional and non-insertional Achilles tendonitis.
Bonus Read: Best running shoes for metatarsalgia
Best Running Shoes for Achilles Tendonitis Reviews
Here is the list and reviews of the best running shoes for Achilles Tendonitis.
1. Mizuno Wave Rider 24 ­– Best Budget Neutral Running Shoes for Achilles Tendonitis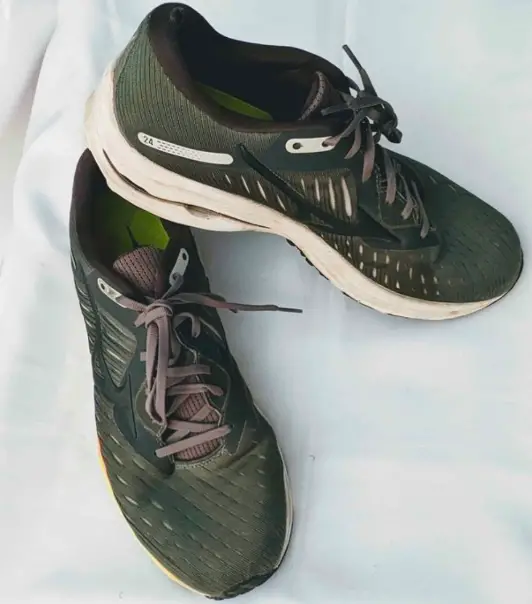 The Mizuno Wave Rider 24 features a very flexible and lightweight mesh upper so that you do not feel an extra burden on your calf muscles. Moreover, the toe boax of Mizuno Wave Rider is spacious enough to give the runner plenty of space. It offers plenty of cushioning for those with chronic tendinitis pain. The Wave Rider 24's outsole is made of high-quality rubber that provides good traction on various surfaces. These waves are also very attractive and have a wonderful sporty feel to their aesthetic.
Mizuno Wave Rider 24 running shoes have a wide toe box so that runners with Achilles Tendonitis issues can easily splay out toes and avoid instability while running. If the big toe can't have enough space in the toe box of running shoes, it would crunch with other toes of your foot and mess with the center of mass of the body, which in turn would add strain in Achilles Tendons.
The heel-to-toe drop of Mizuno Rider 24 shoes is 12mm, which is good enough to absorb the shock and reduce the stretch in calf muscles and Achilles Tendons. 
The upper of these Mizuno Wave Rider shoes is nicely flexible, soft fabric, and breathable. It doesn't pinch the top of the foot. These Mizuno shoes hug nicely around the foot. Also, the heel collar of Mizuno shoes is nicely padded and supportive enough to avoid heel slippage.
Regarding cushioning, Mizuno Wave Rider 24 shoes feature their exclusive U4ic cushioning, which gives a highly responsive feel and gives a nice bouncy cushion for super stressful runs and high-impact workouts.
Also, there is Mizuno's wave plate technology extending from the heel to midfoot in the midsole that disperses the impact across the midsole and offers a stable stride. Usually, heel strikers can benefit from this wave plate technology.
In addition, Mizuno Wave Rider 24 features medium arch support so that the body weight is distributed uniformly across the entire foot, and you get a supportive feel underneath your feet.
Lastly, the sole of Wave Rider 24 shoes is made from dense rubber with a modest tread pattern. Overall, they feel well made and robust.
In short, Mizuno Wave Rider 24 is an excellent and right running shoe for people suffering from Achilles Tendonitis.
We noticed the following downsides in Mizuno Wave Rider 24 running shoes:
The upper surrounding the toe area feels like hard plastic for some users. However, this is a minor issue. I don't think it would cause any discomfort as we usually wear socks while running. If you do not have swollen feet, hammertoes, or bunions, you will be fine with these Mizuno shoes.
Mizuno Wave Rider 24 running shoes are only for neutral runners.
Mizuno shoes need a little break-in period to fit comfortably.
Waveplate in Mizuno shoes may feel uncomfortable for a few initial runs.
Sole starts coming off after a few months.
2. Brooks Adrenaline 21 – Best Stability Running Shoes for Achilles Tendonitis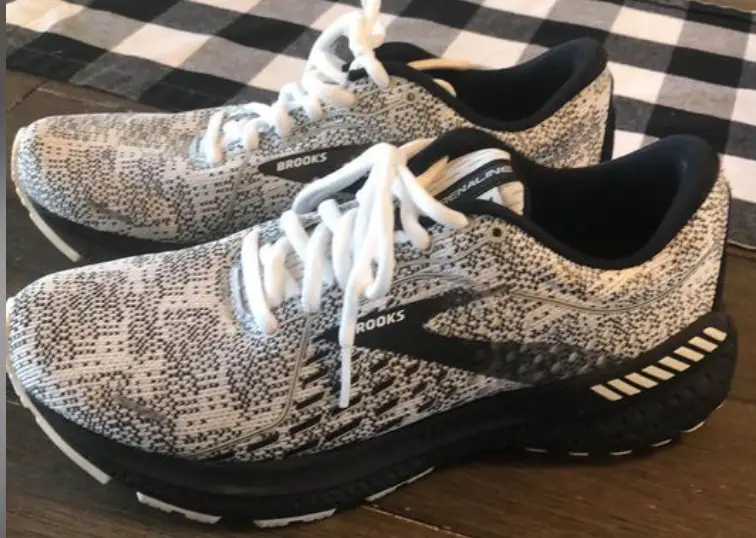 If you suffer from overpronation and your ankles roll inwards while you're running, Brooks Adrenaline 21 shoes are the best stability running shoes to reduce strain, which is resulting from overpronation, in Achilles Tendons. Brooks Adrenaline are available in wide and extra-wide widths. So, you can find the perfect size to comfortably splay out your toes in the toe box of the running shoes.
This is what a user says about Brooks Adrenaline 21:
The Adrenaline model works best for me, as I have Plantar Fasciitis, Tendonitis on my Achilles' tendon, and Diabetic nerve pain. The Adrenaline GTS 21 is so cushioned and comfortable, that I didn't need to use my orthotic insoles at all.
Also Read: Full Review on Brooks Adrenaline 21
Brooks Adrenaline shoes feature a 3D fit print upper, which offers a secure and glove-like fit. On the sides of upper Brooks Adrenaline, the small bits of 3d print offer midfoot support. Moreover, Adrenaline shoes have a sturdy heel counter to lock your heel and avoid rubbing in the Achilles area.
Coming to the cushioning, Brooks Adrenaline features a combination of BioMoGo DNA and DNA Loft cushioning. DNA loft offers shock absorption and excellent heel cushioning, while BioMoGo DNA offers a responsive feel in the cushioning due to its resilience. Like Mizuno running shoes, Brooks Adrenaline also has a 12mm heel-to-toe drop to offer a high heel cushioning.
To avoid overpronation, there is a guiderail system in the rear part of Adrenaline which keeps your running stride along the path and avoids ankles rolling.
Regarding the arch support of Brooks Adrenaline, here is what a real user says:
I have middle – high arch and I personally don't have any problems with the arch support of my Brooks Adrenaline.
Lastly, the sole design of Brooks running shoes replicates the caterpillar movement. Brooks names this technology as "Segmented Crash Pad". The segmented crash pad creates a smooth heel-to-toe transition and a smooth toe-off.
The downside of Brooks Adrenaline shoes is that the rubber on the outsole wears out faster. Since it is a blown rubber, it tends to offer cushioning and sufficient grip. But, it is not as wear-resistant as the rubber on the sole of Mizuno running shoes.
Another downside of Brooks Adrenaline is the toe area tapers down a bit. Apart from getting a proper width of Brooks Adrenaline, you may have to go for a half size bigger to avoid rubbing of the big toe with the sides.
3. New Balance 1080 v11 – Cushioned Running Shoes for Achilles Tendonitis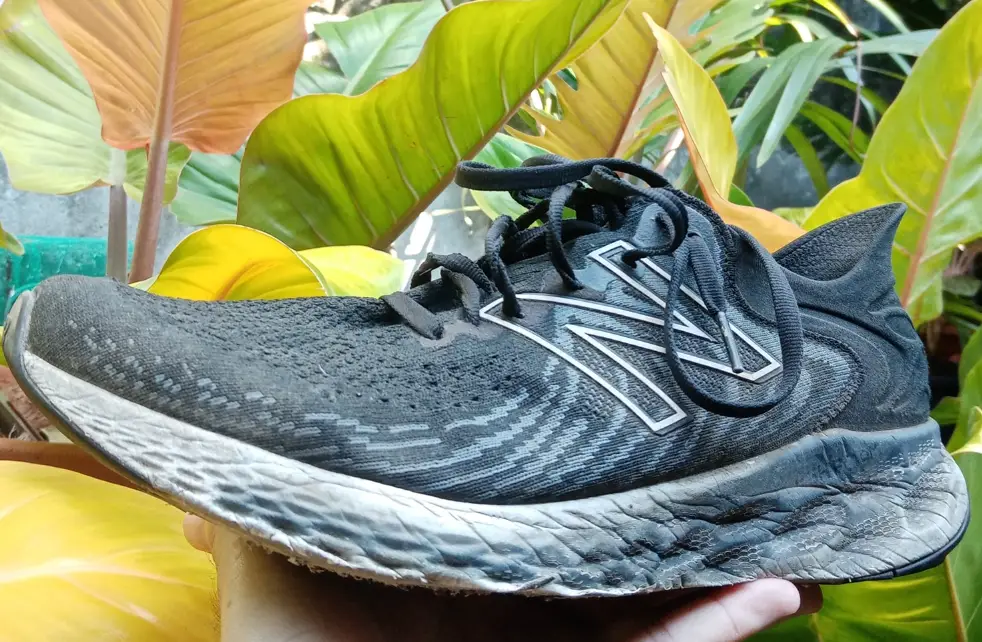 Meta rocker running shoes are preferable if you suffer from chronic Achilles Tendonitis. According to research, rocker shoes cause a reduction in plantar flexion.  Since plantarflexion moment is related to the Achilles tendon loading, rocker shoes might be considered in the conservative management of Achilles tendinopathy.
However, before you wear meta-rocker running shoes like New Balance 1080 v11, make sure that you are not suffering from knee pain as the meta-rocker design of shoes can increase mechanical work on the knee joint. Moreover, a meta-rocker design of running shoes like New Balance 1080v11 is preferred if you are in the early stages of recovery from Achilles Tendonitis.
The upper of New Balance 1080 shoes is highly breathable while offering structure and protection. Also, the mesh above the toes is very flexible and stretchy so it will mold nicely to the top of your foot.
Talking about cushioning, New Balance 1080 shoes feature FreshFoam midsole, made from 3D-printed EVA foam. It has been altered structurally for a springy, cushioned ride. The heel-to-toe drop of New Balance 1080 v11 shoes is 8mm. So, they are perfect for both forefoot and rearfoot strikers. New Balance 1080 shoes have a ton of cushion for high mileage and enough energy return to not feel like you're wearing a big bulky trainer.
New Balance 1080 shoes feature a bootie heel collar that conforms comfortably around the ankles. The ultra-heel will provide a great hold to the back of the foot. However, if you have a narrow heel or you don't tie up your laces in a certain manner, the heel will slip out. I have found this great resource for the heel-lock lacing technique. You should check it.
I would not advise you to neglect these New Balance 1080 shoes because of heel slippage as there is always a solution for a problem. If the heel still slips, I would still recommend you to consider New Balance 1080 shoes due to their rocker profile and cushioning. You can also check my guide on preventing heel slipping in shoes to eliminate this issue.
Moreover, since New Balance 1080 shoes are wobbly, avoid taking quick turns in these shoes while running. The track for running should be smooth and straight.
Lastly, If your foot has a high instep, the top of the shoe, where it laces around your foot, may fit tightly.
Also Read: Full Review on New Balance 1080 v11
4. ASICS Gel Cumulus 23 Shoes – Responsive Running Shoes for Achilles Tendonitis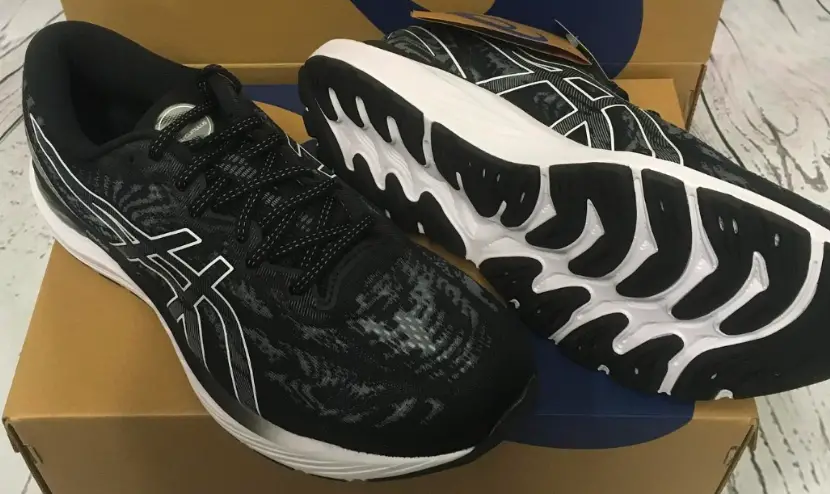 ASICS Gel Cumulus are also great Achilles Tendonitis shoes. Before selecting Gel Cumulus, I compared it with Gel Nimbus. After a lot of research, I found that the heel-to-toe drop of Nimbus is the same as Cumulus.
However, Nimbus is bulkier as it has thicker cushioning compared to the Nimbus. There is only a 3mm difference between the stack heights of Nimbus and Cumulus. Due to this, I didn't think that paying extra 30 bucks for Nimbus would be worth enough.
However, the stack height i.e., the cushioning thickness of ASICS is around 10mm less than the stack height of running shoes I reviewed above. But that doesn't mean you neglect these ASICS shoes. the heel to toe drop of ASICS Cumulus shoes is 10mm. Their cushioning is still enough to absorb the impact when you strike the ground.
Coming to the upper, ASICS Cumulus upper has plenty of stretches and holds the foot securely. Also, there is a dip in the heel area which I think gives good support to the arch and creates good heel-to-toe foot use.
The midsole cushioning of ASICS shoes features Flytefoam technology that is 55% lighter and more resilient than the standard EVA foam. Moreover, gel cushioning under the heel helps runners compress into a specific area without losing stability. In addition, Asics running shoes feature flex grooves in the outsole to allow the shoe to flex and roll through your stride.
Regarding the sizing, ASICS Cumulus shoes are available in wide and extra-wide widths. For men, wide is 2E and extra-wide 4E. However, some users report that the wide width of ASICS running shoes feels more like a standard width. So, you may have to test different widths to get the correct size in ASICS running shoes.
The downside of ASICS Cumulus shoes is that they are not breathable like other running shoes due to a thick ankle collar padding and a pillow-like tongue. Moreover, the extra padding increases the weight of the shoe, which in turn can affect your running economy. So, I would advise you to run in ASICS Cumulus shoes for easy day runs.
In short, mid-mileage runners with wide feet, who want a firmly cushioned shoe to help protect aging joints, ASICS Cumulus shoes should be your choice.
5. Saucony Peregrine 11 – Best Trail Running Shoes for Achilles Tendonitis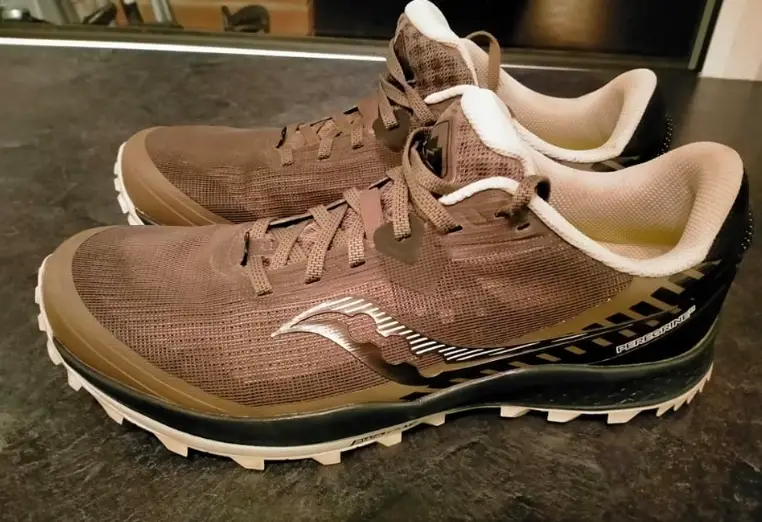 Achilles tendon pain shouldn't prevent you from running on trails or uneven terrains when you have comfortable shoes like Saucony Peregrine. Saucony Peregrine 11 the best shoes for running on trails with Achilles tendonitis, whether you are a trail runner or a hiker. The aggressive lugs are made of PWRTRAC tacky rubber, which conforms to the terrain for a confident grip and braking power for steep descents.
The heel-to-toe drop of Saucony Peregrine is only 4mm. But, the 27mm cushioning thickness at heel, and 23mm thickness of cushioning at forefoot would provide enough cushioning to reduce the load on Achilles Tendons. If you're used to forefoot striking, you should consider buying these Saucony Peregrine trail running shoes.
Saucony Peregrine shoes feature PWRUN cushioning in the midsole, which is a blend of TPU (thermoplastic urethane) and EVA foam. The midsole serves excellent responsiveness and shock absorption to propel you forward and absorb the load acting on your foot. Furthermore, the rock plate in the midfoot protects the foot against harsh trails.
Saucony peregrine trail running shoes have a tightly woven fabric upper with some rubber around the toes and heel. The fabric is well finished and sturdy-feeling. Also, the toe box is wide enough that your feet' toes won't be crunched.
The downside of these Saucony Peregrine shoes is that they are a little harder on the knee/heel if you run on the road. Another downside is extra support in the heel of Saucony Peregrine shoes is noticeable, but not uncomfortable. You can use padded heel grips if you want.
What Are the Causes of Achilles Tendonitis?
The Achilles tendon (also known as the calcaneal tendon) is located in the back of the ankle and connected to the calf muscle. It's a thick rope-like structure that joins your calf to your heel bone, and it acts as an attachment point for contracting your calf muscles.
The Achilles tendon is important for walking, running, jumping, and climbing stairs. It stretches when you push off with your toes and contracts when you pull your foot back.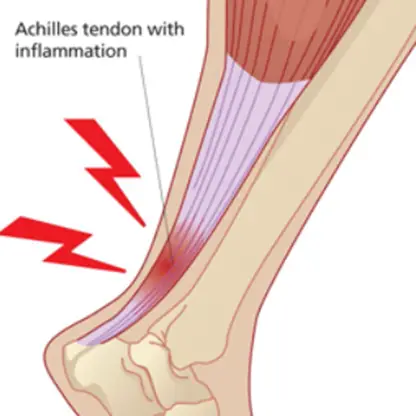 The main cause of Achilles Tendonitis is excessive strain on Achilles Tendon (muscle). In a repetitive activity, such as running, Achilles Tendons expand and contract repeatedly when transitioning the running posture from heel to toe. Muscles and tissues in the back of the heel expand when runners change strike from heel to toe and contract when we strike the heel against the ground.
Shoes with stiffer soles and minimal cushioning in the heel will fail to absorb the high impulsive forces exerting on the tendons during heel strike. This would weaken the tendons, cause inflammation, and would eventually result in rupturing the tissue.
Achilles Tendonitis can also be caused if you are not stretching or warming up before you exercise. Before running or any kind of rigorous activity, it is important to first stretch your muscles so that tendons can expand and contract easily without offering any resistance.
Also Read: Walking shoes for Achilles Tendonitis
Other underlying causes of Achilles Tendonitis includes:
Age factor
Older people have poor blood circulation, due to which they have stiffer tissues. The stiffer tissues will cause severe Achilles pain.
Flat feet  
Flat feet or feet with fallen arches do not have a mechanism to naturally absorb the shock, due to which they receive a lot of strain on the calf muscles and tendons.
Overpronation
The term overpronation means inward rolling of ankles while walking or running. It is very common among people who are involved in sports activities with a heavy training schedule. Overpronation has also been associated with poor posture and alignment leading to excessive strain on muscles and tendons.
The excessive movement of ankle inward rolling causes degeneration of tendons and reduced blood flow in Achilles Tendons, resulting in inflammation in tendons. In some cases, the inflammation affects the skin surrounding the tendon which leads to pain and inflammation.
Tight hip-flexor muscles
When hip-flexor muscles are tight, they would tilt the pelvis and force to bring the center of mass of the body forward and create strain in the Achilles Tendon, which may lead to the problem of Achilles Tendonitis. You can read this study for more details.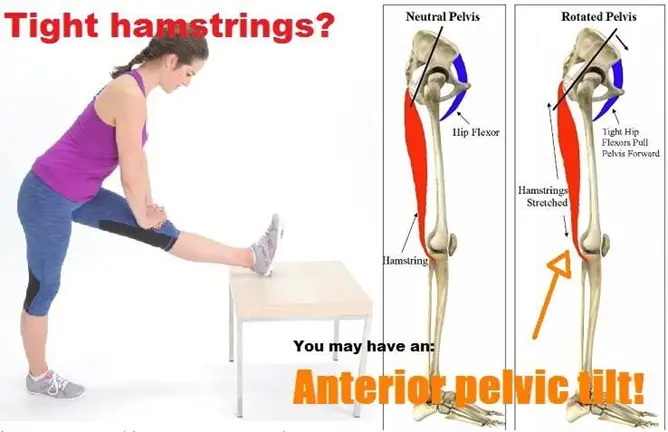 Improper training shoes
If your running shoes do not have cushioning in the heel, a non-supportive heel collar, or even improper fitting, it would aggravate Achilles pain.
You should avoid wearing wedge shoes or high-heel shoes as wearing high heels would force you to walk on your toes, resulting in aggravating the pain and inflammation in Achilles Tendon.
Also, if shoes have a stiffer sole, it could cause additional tension in the calf muscle and forces the Achilles tendon to work too hard.
How To Alleviate Achilles Pain?
Strength training and stretching will help prevent the development of symptoms of Achilles Tendonitis by reducing the tension in hamstrings and calf muscles. You can also check this guide on stretching exercises for Achilles tendons.
If you have an underlying medical condition, such as diabetes or gout, it is important to treat it to reduce inflammation in the tendon.
How Does Running Form Affect Achilles Tendonitis?
Runners are either heel strikers or forefoot/midfoot strikers. Running gait is an intrinsic characteristic of a runner, which cannot be changed suddenly. Each running gait has its pros and cons.
A heel striker tends to be more prone to knee injuries, while forefoot/midfoot strikers are more prone to Achilles Tendonitis due to greater loading on the Achilles Tendons.
When a runner strikes the ground with the forefoot, it is completely flat, due to which there is a higher axial ankle joint contact force, which also causes stress in Achilles' tendons.
But, that doesn't mean that runners should change their gait from forefoot to rearfoot as it would result in may result in stressing tissue that is not normally stressed when running with one's habitual pattern. All you need to do is strength training to get your calf muscles and Achilles Tendons strong.
However, if you have switched to a forefoot running style before Achilles Tendonitis, your running style may have to be blamed for your injury.
If you are used to forefoot striking and have been doing it for a long time, transitioning it to rearfoot strike for the sake of relief from Achilles Tendonitis won't give you an advantage.
You can also check out this study for more details.
If you're sued to forefoot running, all you need is to avoid aggressive forefoot stride and landing the forefoot too far from the body.
The below video is enough to explain what I'm trying to say.
Arch support is crucial in any type of shoe, but it is especially important in running shoes because they are worn while exercising. When the arch is properly supported by the shoe, it can work more efficiently to absorb shock. In fact, providing proper arch support in shoes for Achilles tendonitis is one of the most important things you can do.
If the running shoes do not provide enough support for the arch, it will cause excessive stress on the Achilles tendon and lead to inflammation.
How to Make Running Shoes Comfortable for Achilles Tendonitis?
If your running shoes Achilles Tendonitis have less than 8mm heel drop or your heel is slipping in the running shoes, you can use these Tuli Heel Cups to add extra cushion under the heel and avoid heel slippage against the running shoes back.
Tuli Heel Cups are ideal for heel pain, Achilles tendonitis, and plantar fasciitis. It is especially used for heel spurs or plantar fasciitis. These heel cups add additional cushion under the heels and avoid the heels slipping inside the running shoes. The heel cups help you to run freely without worrying about the pain in your heels.
Wrapping Up
While high heel drop running shoes are important for people suffering from Achilles Tendonitis, you should not get used to them as they would affect your running stride. Achilles Tendonitis can be treated through a combination of anti-inflammatory medications, rest, and physical therapy exercises.
Physical therapy exercises help in stretching and strengthening calf muscles along with Achilles tendons. Strengthening these muscles helps in relieving stress from the Achilles tendon and prevents further injury.
So, in the recovery phase of Achilles Tendonitis, you should always start with high heel drop running shoes. As things get matter, you can increase your running mileage and slowly revert to the low-heel drop running shoes as the low-heel drop running shoes would eventually help in strengthening calf muscles and Achilles Tendons. In the start, you will face some sort of inflammation on the back of the lower leg, but it will benefit you a lot in the long term.
Best Running Shoes for Achilles Tendonitis or Tendinopathy: Quick Summary
| Name | Image | Unique Feature | Buy Now |
| --- | --- | --- | --- |
| Mizuno Wave Rider 24 | | I liked Mizuno Waveplate technology for medium arch support. The upper is wide and flexible. | |
| Brooks Adrenaline 21 | | Brooks Adrenaline are great for someone suffering from overpronation issues. These shoes have a highly cushioned midsole with a deep toe box. | |
| New Balance 1080 v11 | | New Balance 1080 v11 have meta-rocket technology for a smooth transition from heel to toe. They are great for neutral runners suffering from chronic Achilles Tendonitis. | |
| ASICS Gel Cumulus 23 | | ASICS Cumulus 23 shoes have a strong upper and secure foot securely. They are a bit heavy. So, they are suitable for mid-mileage runners. | |
| Saucony Peregrine 11 | | Best trail running shoes for Achilles Tendonitis as aggressive lugs are made of PWRTRAC tacky rubber, which conforms to the terrain for a confident grip and braking power for steep descents. | |