Peloton Shoe Sizing – [Are They Run True to Size?]
Do Peloton shoes run true to size? The answer is both Yes and No. Peloton shoe sizing depends solely on how far your foot is narrower or wider. Peloton shoes do not come in a range of widths. The shoes are pretty narrow. So, if you've wide feet, the better option is to go for a size up.
Peloton is a great company in the New York area that has taken the world by storm when it comes to indoor cycling. Pelton cycling is a fun way to stay healthy and fit. You can get the most out of this activity while wearing Peloton shoes that are made with style, comfort, and durability in mind. On the other hand, wearing ill-fitting Peloton shoes can be slow and painful on your feet, making indoor cycling a tedious activity.
That's why I've written this Peloton shoes sizing guide that keeps you acquainted with the right fit of Peloton shoes so that you can keep enjoying this indoor cycling activity.
Peloton Shoe Sizing Guide – How should they Fit?
Here are the following considerations for Peloton shoes fit.
Peloton shoes should fit similar to the running sneakers, i.e. they should not be too tight that they start digging in your foot
They should not be too loose that they start putting extra weight on your feet and moving back and forth, due to which you can lose your balance while cycling. The rearpart of the Peloton shoes should snugly accommodate your heels.
Furthermore, the arch support of Peloton shoes should be supportive enough that they don't put strain and pressure on your foot's joints.
I interviewed several people who wear Peloton shoes and crawl through their discussions on the relevant forums. I'd say Peloton shoes run true to size if your foot is narrow or have standard width.
You can size up if you've wide feet, but there might be more toe room in the shoes after sizing up as many users have felt that they run a bit bigger after sizing up.
There's still a solution. You can adjust the double velcro straps and a ratchet strap to make the shoes snugger around your foot. Moreover, you can also try thick socks with the shoes to get a snug and comfy fit. If they still run a bit loose, which could be the case for women as Peloton branded shoes don't have half sizes for their feet, they can place an orthotic insert to get the desired support and fit.
Here's what a user says about Peloton shoe sizing.

There's another reason for running the shoes bigger if you go for a size up because these shoes, like other brands, don't come in a range of half sizes. For instance, if you look at the Peloton shoe sizing chart on the Peloton brand's official website, you'll see that half sizes are only available for men, i.e. US10.5 and US13.5.
The reason is Peloton brand shoes are made according to the European (EU) sizes. Here's a breakdown of Peloton shoes sizing according to their chart.
EU sizes from 40 to 43 are dedicated to both men and women
Sizes from 44 to 48 are only dedicated to the men
Sizes from 36 to 39 are only dedicated to the women
So, to verify their sizing, I jumped onto their official website and found that the information was correct. Peloton brand shoes have only two half sizes, which are available only for men.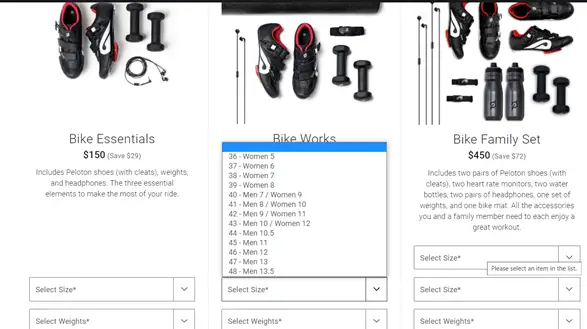 So, you can see there're only two half sizes. I think they've set half sizes only for men because they've relatively wider feet than the feet of women. Like, if men have a standard width foot or even a narrow one, it'll still have more width as compared to the women's foot.
That's why they've provided two half sizing options for men so that if they even have standard width feet and don't fit comfortably in the regular size, they can go for a half size up.
For women with wide feet, they might have to go for a size up. Here's what a female user says about Peloton shoe sizing for women.

Peloton Brand Shoes vs Nike Superrep Sizing
When I said "Peloton Shoes" at the start of this article, that doesn't mean I will limit my content to only Peloton brand shoes. Several other brands make shoes for Peloton bikes. One of them is Nike.
Their famous shoe for Peloton bikes is Nike Supperrep. The shoes are much more breathable as compared to the branded Peloton shoes due to their soft mesh fabric upper. On the other hand, peloton brand shoes have stiffer upper due to leather material.
Regarding their sizing, the shoes have a single Velcro strap wrapped diagonally over the upper to offer a comfy, snug fit around your foot. Compared to Peloton branded shoes, these Nike shoes do come in half sizes for both men and women.
Nike Superrep also run narrow, but not so much as Peloton brand shoes do. If you've standard or wide feet, I recommend ordering a half or a full size up.
Here's what a user says about Nike Superrep fit as compared to that of Peloton brand shoes.

You can check out this video to learn more about Nike Superrep peloton shoes sizing.
Peloton Shoes vs Shimano Sizing
Shimano shoes also have a soft, breathable mesh with leather overlays for a comfortable and supportive fit. As compared to Peloton brand shoes, many shoes by Shimano brand come in half sizes to accommodate a wide variety of foot.
The sizing chart of Shimano cycling shoes is a bit complex if you convert from Euro sizing to US sizing, as you can see in their sizing chart. So, if you convert their EU sizes to the US, they're not like US 7, 7.5 and 8. They've sizes like 6.8, 7.2, 7.6, which looks weird. So, it's a bit difficult to compare the sizing of Peloton brand shoes with Shimano indoor cycling shoes concerning their size charts.
In general, Shimano shoes also run narrow if you go for the normal size you usually wear. Due to their weird sizing options, it is difficult to compare Shimano and Peloton shoes sizing. So, I'd suggest you try Shimano indoor cycle shoes by going to their nearby stores.
Peloton Shoes vs Venzo Indoor Cycling Shoes Sizing
Venzo are rated as the best seller shoes on Amazon.  Compared to Peloton brand shoes, they have three Velcro straps with a mesh upper and leather material wrapped around the sides for a secure fit.
Compared to Peloton shoes, they're not so heavy so you can think about buying them for indoor cycling. Venzo shoes also come in half sizes for both men and women. The best thing about these shoes is that they primarily run true to size. Some users on amazon say that they run a bit bigger. But big size is not an issue for these shoes as you can tighten the fit, thanks to their three velcro straps.
You can see the review of a user on Amazon that says Velzo shoes run a bit large. In the review, he didn't mention that whether he had narrow or wide feet. There might be a possibility that he had narrow feet, due to which Velzo shoes run large for him.

Here's another review of a user who says Velzo shoes run true to size.

Final Verdict about Peloton Shoe Sizing
I hope you've found the Peloton shoe sizing guide quite helpful. As I don't know when you are concerned about Peloton shoes sizing, do you mean specifically Peloton brand shoes or those used for Peloton bikes? So, I've discussed Peloton brand shoes and made their comparison with the indoor cycling shoes of other brands like Nike, Velzo and Shimano.
If you've narrow feet, Peloton brand shoes run true to size. But for standard or wide width feet, you might have to go for a size up. Unfortunately, Peloton brand shoes have only two half sizes, which are only for men. So, you might have to go a full size up if your size doesn't lie in half size range. If Peloton brand shoes run big after sizing up, you can wear thick socks, put orthopedic inserts and tighten the shoes with double Velcro straps to make a secure and comfortable fit.
FAQs about Peloton Shoe Sizing
Do Peloton shoes stretch?
Peloton shoes feature a stiff leather upper due to which they don't stretch. So, if they run small, you shouldn't wait for them to break in. Go for a size up!
How to get the right size peloton shoe?
First, you need to measure your foot size correctly. You can do this with a Brannock device. Peloton shoes don't come in a range of widths. They've standard size, which is usually narrow for people with wide feet. So, if you're one of them, buy a larger size to get a perfect fit.
---