Brooks Levitate 5 vs Brooks Revel 5: An In-Depth Comparison
Running is a strenuous enough workout, and when you're running with improper footwear it can make it excruciating. Nobody wants to feel like they're running on eggshells. The Brooks Levitate 5 and Revel 5 are two of the most popular models of Brooks running shoes. To help you find the best one for you, we've prepared an in-depth comparison so you can make an informed decision.
So, which running shoe is suitable out of Brooks Levitate 5 vs Brooks Revel 5? Brooks Levitate 5 is a heavier shoe by Brooks due to TPU foam midsole, having more energized cushioning. Levitate 5 is not heavily cushioned, but it features a high level of springiness. On the other hand, Brooks Revel 5 is relatively lightweight due to a gel-like cushioning that is less responsive compared to the TPU foam cushioning in Levitate 5. This gel-like material in Revel 5 carries a sweet spot between springiness and soft cushioning like EVA foam.
Bonus Read: Brooks Ghost 14 vs Glycerin 19
Features Review of Brooks Levitate 5 vs Brooks Revel 5
There are a lot of features in the Brooks Levitate 5 and Brooks Revel 5. We will break down some of the key features in each shoe and compare them to help you make a decision on which one is better for you.
Upper Design
The regular version Brooks Levitate 5 running shoes feature a soft, thick circular-knit upper compared to its previous version i.e. Levitate 4. Circular-knit makes a seamless tube of fabric, much like how a sock is constructed.
Due to this, Levitate 5 classic version clearly gives high comfort and cruiser fit vibe when runners put it on. Brooks Levitate 5 shoes also come in StealthFit version, having a sock-like fit upper with an integral knit tongue and pretty soft collar.
Regular Levitate 5 is less stretchy and heavier than its StealthFit version. Moreover, users also say that the StealthFit version of Levitate 5 has a tighter and lighter mesh upper without being stiffer than Levitate 4. StealthFit version of Levitate 5 is around 4 grams lighter than Levitate 4.
Runners also say that the upper of Levitate 5 flexes with the feet with the running stride without causing any resistance.
Despite the comfort of the upper of regular version Levitate 5 shoes due to its softness, the circular-knit upper adds 0.4 oz. of extra weight compared to its previous version. The regular version of Levitate 5 weighs around 10.4 oz., while the StealthFit version weighs around 9.81 oz.  
Also, the circular-knit upper of Brooks Levitate 5 shoes is felt quite hot due to the fully-gusseted tongue, making them only suitable to wear in fall/winter. It would be better if the tongue was partially-gusseted.
However, a full-gusseted tongue in the shoes offers the advantage that it does not rub over the top of the foot. In this way, it provides a secure and comfy fit.
Coming to the upper design of Brooks Revel 5 shoes, their upper is labeled as a fit-knit upper instead of a circular-knit upper in Levitate 5.
The fit-knit upper of Revel 5 is a single-piece engineered unit that is as soft and flexible as the circular-knit upper of Levitate 5. However, the upper of Revel 5 shoes is much breathable compared to Levitate 5.
However, if you closely look at the side of the upper in Levitate 5 and Revel 5, there are some noticeable differences. The first difference is the printing of the Brooks logo. In Levitate 5, a transparent Brooks logo strip with a solid boundary is attached with the upper. While in Revel 5, instead of embedding, a solid Brooks logo strip is glued to the upper for lateral and midfoot support.
The second difference is that on the side of Brooks Levitate 5 upper, seamless tubes of fabric (more like a rope) are closely spaced together for a secure and supportive fit. This stitching pattern resembles stocking stitch, deployed in socks. These closely spaced fabric tubes prevent airflow, due to which breathability is affected.
In contrast, on the side of Brooks Revel 5 upper, the spacing between fabrics is the same as on the shoe tongue area. In Brooks Revel 5, instead of a tube-like fabric, the fabric pattern is like interlocking arrows with plenty of spaces to enhance breathability, while ensuring a supportive fit.
The third difference between Brooks Levitate 5 and Revel 5 upper is that Levitate 5 features patches of 3d prints on the side of the upper between the heel collar and tongue area. Due to these 3d prints and more supportive fit, Brooks Levitate 5 shoes are priced around 50 dollars higher than Brooks Revel 5.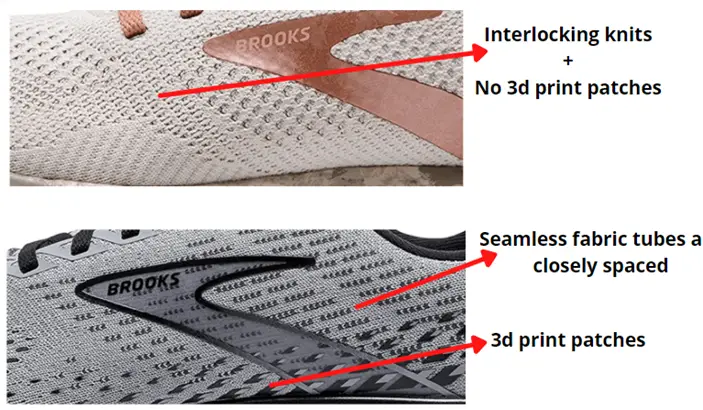 Heel Collar Design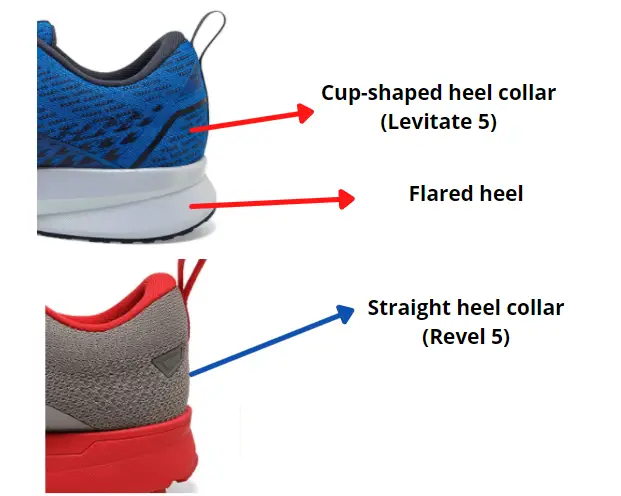 The sturdiness of a heel collar is the same for both Levitate 5 and Revel 5. However, the heel collar of Levitate 5 is curved and more of a like cup shape so that it firmly grips the heel, and prevents heel slippage. This curved heel in Levitate 5 helps roll you and your foot forward and actually makes the body more efficient. In Revel 5, because of the straight heel collar, the foot plays a bit in the heel.
Moreover, Levitate 5 has flared heel on the posterior side i.e. protrusion of heel past the foot sites. Due to this, the impact is absorbed to a greater extent when a runner strikes the ground with heel. It has been proven in this study (PDF).
Also Read: Nike vs Puma
Fit
Levitate 5 shoes have a kind of sloppy fit over the forefoot area, thus providing more lockdown fit. Compared to previous versions of Brooks Levitate, the new version is suitable to fit the wide feet. In contrast, Revel 5 shoes offer a relatively relaxed fit. Despite this fact, both Levitate 5 and Revel 5 are only available in standard widths i.e. D width for men and B width for women.
The fit of Revel 5 runs true to size with some looseness in the upper. Your forefoot may slide around if you have medium-width feet, but it is not problematic when on the run.
Midsole Cushioning Technology
Midsole cushioning is the main feature that sets the difference between Brooks Levitate 5 and Revel 5. In Brooks Levitate 5, the midsole is made of Brooks exclusive DNA Amp cushioning.
DNA Amp is the springiest material developed by Brooks brand among its other cushioning technologies. It is made of TPU (Thermoplastic Polyurethane), having both PU and rubber properties. PU foam is wrapped in TPU foam to form a midsole.
TPU is heavy and has great crack resistance to extend the durability, while PU serves the purpose of cushioning and resilience. Levitate offers cushioning and responsiveness without being mushy.
On the other hand, in Revel 5, the entire midsole is made of BioMoGo DNA cushioning that is a blend of BioMoGo and DNA Loft Pad. DNA Loft Pad is an EVA foam that is softer than PU material in Levitate, thus more cushioned and shock-absorbent.
A combination of BioMoGo and DNA Loft Pad makes a gel-like cushioning with great durability. BioMoGo DNA hits a sweet spot between cushioning and responsiveness. In short, Revel 5 holds more cushioning but less responsiveness compared to Levitate 5.
Both Revel 5 and Levitate 5 have a heel-to-toe drop of 8mm. Levitate 5 has a heel height of 29mm and a forefoot height of 21mm. On the other hand, the heel stack of Revel 5 is 28mm and the forefoot stack is 20mm.
Running Experience
Levitate 5 shoes, being less cushioned compared to Revel 5 shoes, are more geared to faster paces. Thus, Levitate 5 is labeled as tempo shoes. However, some users say that the springier effect of Levitate 5 shoes is not fruitful if you're a midfoot or forefoot striker.
The higher heel drop and a springy effect in Levitate 5 shoes would prove its worth when you strike the ground with heel and you are used to running in shoes with a high heel drop.
Moreover, to feel the springy effect in Levitate 5 depends on how fast you run. One person has even done the ironman triathlon in Levitate 5 without any issue.  Levitate 5 is not supposed to be your daily trainer. For slow recovery runs, don't expect that Levitate 5 will propel you forward. You have to pick up your pace and hit the steps harder as you would do in sprinting to activate the springy feature of DNA AMP cushioning in Levitate 5.
Talking about running experience in Brooks Revel 5, these shoes are great for casual runs. You will feel quite a nice blend of responsiveness and cushioning in Revel 5 shoes.
There is no propulsion effect in Revel 5, but you will have a nice cruising feel in these shoes. Using Revel 5, you will feel enjoyable to run up to 10K distance. You can also use Revel 5 for legitimate work and speedwork without any issue.
Outsole Design
There isn't a significant difference in the outsole design of Levitate 5 and Revel 5. Both shoes have a continuous kind of rubber slab instead of segmented rubber pads in other Brooks shoes. It is a carbon-injected rubber that offers fair abrasion resistance over wet and dry surfaces. Runners have also tested them on gravels, and the traction was decent.
The flex grooves in the outsole provide a smooth heel-to-toe transition. Moreover, the recessed midsole in the heel area is a common practice to retain the bouncy feel.