6 Best Shoes for Venous Insufficiency and Varicose Veins in 2023
Finding the best shoes for venous insufficiency is essential as people with weak or varicose veins have to face many challenges, such as aching, swelling, worsened pain after long hours standing, and swelling. It is hard to find shoes for people with spider veins that will fit their swollen feet and help reduce the burning sensation in the lower legs.
People with venous insufficiency need to take care of their feet. The shoes that they wear play a big role in how healthy their feet are. The shoes that are best for them need to be comfortable and well-fitting, but also supportive and well-cushioned.
So, after a lot of research, I have reviewed the best shoes that help to relieve the pain caused by venous insufficiency. Best shoes for venous insufficiency patients have cushioned support in the rear part to prevent skin inflammation in the heel area, and relieve the plantar pain. Furthermore, comfortable shoes for spider veins should have a comfy fitting to avoid rubbing and blisters on the foot.
Note: Please don't skip my detailed review about these comfortable work shoes to relieve pain from venous insufficiency. I've asked several users about their experiences and then compiled an unbiased review.
Also Read: Best shoes for accessory navicular syndrome
What is Venous Insufficiency?
Venous Insufficiency is a condition in which the veins in your body are unable to pump blood from your lower extremities back to your heart. This happens because of faulty or damaged valves, which are supposed to keep blood flowing upward.
As a result, the blood pools and stagnates in the veins, which can lead to other issues such as varicose veins, leg ulcers, and chronic venous insufficiency.
Many factors can cause venous insufficiency. These include age, underlying health conditions such as diabetes or high blood pressure, pregnancy, and sitting for long periods.
Chronic venous insufficiency (CVI) may also be associated with the varicose veins. A varicose vein is a twisted, enlarged vein that is filled with blood. When the vein walls are weak, they can stretch and bulge outwards, forming a varicose vein. Any superficial vein can become varicose due to a pool of blood caused by backward flow.
There is a valve in veins through which blood flows. The valve prevents the backflow of blood in the lower body.  Since a varicose vein becomes twisted or bulges, the valve becomes weak or damaged. Due to this reason, backward blood flow cannot be prevented, resulting in venous insufficiency.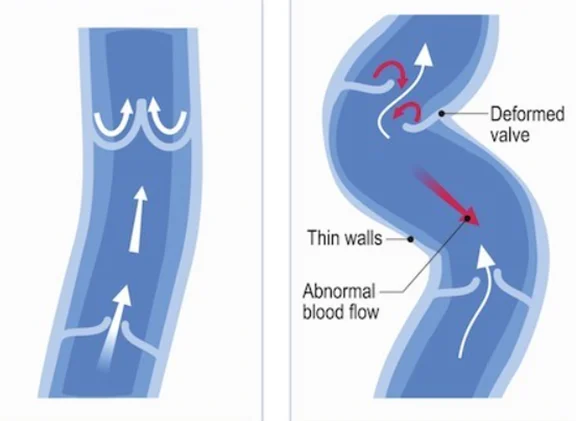 Varicose veins are caused by prolonged hours of standing or sitting. This increases the pressure on the vein. This pressure stretches the vein and damages the internal one-way valve.
Another factor that leads to CVI is Deep Vein Thrombosis (DVI). Deep vein thrombosis (DVT) is a blood clot that forms in a deep vein, usually in the legs. The blood clot is formed when there is slower blood flow in the lower leg due to injury or diabetes. A blood clot that forms in a vein is called a thrombus. The blood clot also affects the efficiency of veins.
How to Diagnose Chronic Venous Insufficiency?
Chronic venous insufficiency is a disorder that affects the circulatory system of the legs. It can develop gradually over time or it can be caused by an injury or surgery. It is commonly found in people who have varicose veins, but it also appears without varicose veins. Patients with chronic venous insufficiency experience leg pain, leg ulcer, achiness in legs, restless legs, swelling, and skin changes.
The treatment for chronic venous insufficiency usually includes rest, the elevation of the legs, compression stockings, comfortable and supportive work shoes, and exercise to strengthen the muscles around the veins, and medication if prescribed by your doctor. You should seek medical attention if you are experiencing symptoms for more than six weeks or if you are experiencing ulcers on your skin that do not heal quickly.
Can You Get Varicose Veins from Bad Shoes?
Causes of varicose veins can range from extended periods of standing to family history, to pregnancy, and finally bad shoes. If your shoes are bad, the extended periods of standing can aggravate venous insufficiency. According to research, people who were involved in jobs requiring long hours standing were more likely to suffer from varicose veins and leg cramps.
The term "bad shoes" is vague. There are the chances that the shoes which are bad for you may prove a blessing for another person. Everyone has a unique foot's shape. A shoe is bad for someone when there is poor arch support, tight-fitting and improper cushioning.
If you have flat feet, you need shoes with a deep heel cup and arch support to evenly distribute the pressure of your body's weight across your feet. If you have quite high arches, you would need shoes with excellent cushioning to absorb the shock.
High-heeled shoes, such as dress shoes and flat sole shoes like Vans and Converse are considered "bad shoes" for people suffering from venous insufficiency. High heels will force the blood to pool in the feet, causing varicose veins. So, you should avoid shoes of that style if you want to control that disease of spider veins.
Why Do We Need Good Shoes for Venous Insufficiency?
Venous insufficiency can cause swelling and ache in the foot and ankles due to a pool of deoxygenated blood in the veins. This also weakens the muscles of the lower parts of our body. The muscles contribute to pushing the blood from the veins to the heart. Furthermore, the pool of blood in the lower legs exerts pressure on the muscles resulting in leg pain and fatigue.
If muscles become weaker due to wrong footwear, it will aggravate venous insufficiency. So, to get relief from the pain due to the pressure of deoxygenated blood pool, getting a comfortable and supportive pair of shoes has become important for venous insufficiency patients.
Doctors may also recommend wearing compression stockings, which are tight at the ankle and gradually get looser towards the thigh. This helps to reduce the pressure in the legs, which can help to prevent further damage. You can check my guide on compression socks benefits for more details.
Also Read: Shoes for Standing All Day On Concrete
Top Best Shoes for Venous Insufficiency
Here is a list of the best shoes for varicose veins and venous insufficiency. These shoes for DVT and poor blood circulation in lower extremities are selected based on different requirements so that you can pick any option at your ease.
1. Dansko XP 2.0 – Best for Nurses and Healthcare Professionals Suffering from Venous Insufficiency
If you're a nurse working in a healthcare facility, Dansko Clogs have turned out to be the best work shoes for varicose veins and poor blood circulation in the lower extremities of your body.
The previous version of Dansko XP 2.0 is Dansko Professional Clog. The difference between them is that XP 2.0 features an EVA midsole instead of a PU midsole to reduce the shoe's weight. Moreover, EVA material has a great shock-absorbing capacity, which is an important feature that venous insufficiency patients must need in their shoes to release the pressure off plantar muscles.
To enhance the compression-resistant property of XP 2.0 clogs midsole for long hours standing, a thermoplastic urethane (TPU) shank is embedded so that it can support your foot's arch and evenly distributes your body weight across your feet.
Furthermore, the toe box of Dansko Clogs is roomy enough that it can fit your swollen feet. One of the people had poor blood circulation in the lower extremities, due to which his feet had swollen. He started working in comfortable Dansko Clogs with a spacious toe box. Now, he feels much comfortable during his duty.
Lastly, Dansko XP 2.0 clogs have a removable polyurethane foam insole for enhanced arch support. Users say that the insole is nicely padded, soft, and provides a plush feel underneath their feet.
Let's discuss some downsides of Dansko XP 2.0 clogs.
The first thing I didn't like about Dankso XP 2.0 clogs is that they are made of synthetic leather. No doubt, Dansko shoes are pricey because they are hand-made and have great durability. But, they could make them with natural leather so that we can skip a break-in period.
The synthetic leather of Dansko XP 2.0 clogs is a bit stiffer at the start. The midsole is perfect. But, the upper needs to be soft. So, I would suggest you break in Dansko Clogs by wearing them with good quality thick socks and walking in them in the backyard of your house before actually wearing them during your duty.
Another limitation of Dansko Clogs is that they are not suitable if you have bad ankles as these clogs are a bit far off of the ground.
The third limitation is the style of Dansko Clogs. The style of Dansko Clogs is suitable for workers in restaurants or healthcare facilities. I don't like them wearing to parties, or during street walking.
Lastly, the quality of the insole of Dansko XP 2.0 clogs needs to be better. The comfort and padding are perfect. But, after a few months, the insole starts wearing off and losing its strength.
2. Birkenstock Unisex Boston Soft Footbed – Supportive Shoes for Poor Blood Circulation and Varicose Veins
Birkenstock has been creating high-quality footwear since 1774 and their Unisex Boston Soft Footbed is no exception to this tradition. This shoe provides relief and support for those with venous insufficiency, varicose veins, and other foot health issues.
The upper is made of leather and the footbed is made of cork, providing a soft and supportive surface for those suffering from aching and burning sensation in the feet. Birkenstocks also feature EVA midsole for excellent shock absorption.
If you're a person, having swollen and huge wide feet, and you don't have a problem with backless shoes, you should consider buying these Birkenstocks. The anatomical design of Birkenstocks will provide a great comfy fit.
The cork footbed of these Birkenstocks is softer compared to Dansko clogs. So, it will conform to your feet in no time.
Moreover, these Birkenstocks are made in oiled-leather and suede leather versions. The suede version is comfier compared to the oiled-leather version. But, if you want great durability, you should go with an oiled-leather version of Birkenstocks. Compared to the Dansko clog, the oiled leather of Birkenstocks is softer and breaks in easily. However, the oiled leather is a bit less shiny.
The leather of Birkenstocks does not stretch, but if you buy the correct size, there will not be any sideways pressure on your feet. Moreover, the leather strap on the side also allows adjusting the fit.
The downside of Birkenstocks Boston Clogs is that they are not slip-resistant like Dansko Clogs. You should avoid wearing them on wet surfaces, such as those found in the kitchen.
3. Skechers Go Walk 5 – Best Budget Work and Walking Shoes for Venous Insufficiency
Skechers make great walking shoes to provide comfort and support. In Skechers, there is either a memory foam insole or Goga Mat insole. No doubt, memory foam is great as it conforms to your feet as soon as you put step on it. Check my guide on memory foam shoes to learn more.
Memory foam has a downside that it becomes flat and you have to replace it again. This is not the case with Goga Mat material. It is resilient and springier compared to memory foam.
In short, Goga Mat is more functional, provides high rebound cushioning, and helps to absorb the impact exerted on the feet during fitness activities. In this way, your feet and leg muscles will have to do less work, and resultantly, there will be less pressure on veins.
This is a great video to understand the property of the Goga Mat insole.
Skechers Go Walk shoes feature a flexible and breathable mesh upper. It easily conforms to the swollen feet and does not cause any blisters. Just make sure that you order a wider fit than your regular foot width.
The midsole of Skechers Go Walk 5 is made of Ultra Go technology, which is a full-length EVA foam unit for added shock absorption. The feet and leg muscles become tired and you might feel a burden on your legs due to venous insufficiency. In such cases, the EVA midsole unit of these Skechers Go Walk 5 shoes comes as a cherry on the top of a cake.
On the bottom of Skechers Go Walk Shoes, there are shock-absorbing pods called "Pillars" that are strategically placed beneath the plantar area of the foot for enhanced shock absorption so that your feet can be protected from plantar vein thrombosis.
The downside observed in these Skechers shoes is that the insole is not removable. So, if the insole doesn't support your arch, you can't replace the Goga Mat insole with your custom insole. However, you can still use two insoles in the shoes. For this, you can check my guide on can we use two insoles in shoes.
4. New Balance Fresh Foam – Comfortable Sneakers for People with Varicose Veins
These New Balance Fresh Foam sneakers are ideal for people with varicose veins. These kicks have become go-to sneakers for errands, workouts, and even travel. These shoes offer unmatched comfort and style that won't hurt your feet.
The upper material is like a knit that readily conforms to your feet without exerting pressure on them. It is easy to wear these New Balance Fresh Foam Sneakers as you can slip them on easily and take them off the same way.
Another advantage of buying New Balance shoes is that they are available in extra-wide (4E widths) for men, and 2E for women. So, this is a great feature you have in these shoes to fit your swollen feet due to spider veins.
However, some users on different complain that these New Balance sneakers' 4E width feels a bit tighter compared to the other New Balance shoes models. But, I asked some friends in my circle who have used these sneakers. They didn't find any difference. The upper is quite stretchy and you can buy a half size bigger if you feel them tight.
New Balance's Fresh Foam is a revolutionary midsole compound that provides the plush cushioning and energized ride with a lighter weight and softer feel. Fresh Foam is an EVA material, which is fine-tuned to adjust the properties and embed springy characteristics. Next, EVA material is transformed into a three-dimensional structure, having convex and concave shapes to create different zones, altering levels of compression and resistance under impact. Due to this reason, wearers describe a feature of Fresh Foam as "firm softness".
The downside of New Balance Fresh Foam sneakers is that they might not be suitable for people with high arches. They are constructed in a way that the opening of these sneakers is limited. However, they stretch well, and after a while, it becomes easier to put them on. You can check my guide on the different lacing techniques of shoes for such purposes.
Another flaw in these New Balance sneakers is that the factory insole is thin. However, it is removable. So, you can put orthotics or gel insoles in them.
Must Read: Shoes for ball of foot pain
5. Clarks Cloudstepper – Comfortable and Slip-On Work Shoes for Venous Insufficiency
The design of Clarks Cloudsteppers is similar to Skechers Go Walk I reviewed above. However, there are some notable differences between these two shoes, due to which I'm recommending Clarks Cloudsteppers to relieve pressure off your feet suffering from spider veins and venous insufficiency.
Clarks Cloudsteppers feature soft textile material that stretches out pretty quickly. It gives an excellent plush feel to the feet and prevents them from blisters. Venous sufficiency causes an itching sensation in the feet. A bit of rubbing can suffer your feet a lot. So, the soft textile upper of Clarks will hinder this situation to happen.
The shoes feature a removable and heat-moldable Ortholite footbed with memory foam that forms to the contours of your feet for all-day comfort and long hours of standing. Also, the footbed has been lined with a soft material so that your bruised heel due to venous insufficiency does not rub against it and cause discomfort. 
Like Skechers Go Walk, the midsole of Clarks Cloudsteppers is made of EVA foam to provide cushioning by absorbing the pressure resulting from the body weight.
The downside of Clarks Cloudsteppers is that the outsole is quite slippery. So, you have to be a bit careful. Moreover, the style of these Clarks looks a bit out of fashion for some people. Everyone has his/her own taste. So, it is totally up to you that whether you prefer fashion or feet comfort.
6. Brooks Ghost 13 – Running Shoes for Varicose Veins and Venous Inefficiency
Brooks Ghost 13 have always been a favorite pair of shoes for me. Whether you're a cashier, a worker in a healthcare facility, a regular runner, or a long-distance walker, Brooks Ghost 13 will meet your expectations. They're a bit expensive. But, this one-time investment will save you from spending tons of money on your feet' health in the future.
The first reason for recommending Brooks Ghost 13 shoes is that they have deep and wide toe boxes. Brooks shoes are also available in 4E width. So, you don't have to worry about your feet being squeezed in your shoes. I know how it is painful when swollen or aching feet, caused by venous insufficiency, will get worse when the shoe will rub against them and apply excessive pressure. Keeping this in mind, I have selected Brooks Ghost 13 shoes for you.
I could also suggest ASICS Gel Kayano or Nike Zoom Pegasus as these are also highly supportive and comfortable. But, the main problem with ASICS and Nike shoes is that they have narrow toe box, and have a snug fit. Since I don't know how much your feet have become swollen due to the pool of blood in your veins, I thought I should not review them here. However, if you're still interested, you can buy ASICS Gel Kayano from here, and Nike Zoom Pegasus from this link.
Let's talk about some great features of Brooks Ghost 13.
Foremost, 3D Fit Print upper is the most notable feature found in Brooks shoes. There are no seams in 3D Fit Print upper that will likely rub on the feet. So, you will comfortably wear these Brooks Ghost 13 shoes. Moreover, the upper of Brooks Ghost 13 shoes flex in all directions to offer a customized and comfortable fit.
Coming to the cushioning technology, the midsole of Brooks Ghost 13 shoes is made of a combination of BioMoGo DNA and DNA Loft cushioning. DNA Loft cushioning is made of EVA foam, rubber, and air. BioMoGo DNA is a gel-like material and more resilient.
The difference between Brooks Ghost 14 and Brooks 13 is that the BioMoGo material has been removed from the midsole in Brooks Ghost 14. I won't recommend you Brooks Ghost 14 for the venous insufficiency condition as the resilience in cushioning is also needed for long hours standing or long-distance walking.
The downside of Brooks Ghost 13 is that the heel collar is a bit uncomfortable as it rubs against the back of the foot. For this, I have written a detailed guide on how to prevent shoes from rubbing the back of foot. So, you can follow my guide to eliminate this issue.
Final Verdict About the Best Shoes for Venous Insufficiency
We hope you found our post on the best shoes for venous insufficiency useful. Our goal is to help anyone with this condition to find some relief from their pain and we hope that this post on the best shoes for venous insufficiency will help you find some relief.