Vans vs Sperry: What's the Difference?
Vans vs Sperry shoes difference is a topic that many people are curious about. In this article, I will take a look at the differences in features of Vans vs Sperry shoes, what makes each shoe unique, and how they compare to one another.
The difference between Vans and Sperry is that Vans are street-style sneakers with vulcanized flat gum rubber soles. Vans are available in slip-on styles and lacing closure, consisting of 4 to 5 sets of eyelets. On the other hand, Sperrys have a unique moccasins style, with a 360-degree lacing system. Sperrys with such kind of design is called "boat shoes." Vans offer a younger and casual formal look, while Sperry Topsiders offer a more mature style.  Sperry boat shoes are less versatile as compared to the Vans shoes. Vans shoes go well with a lot of things. However, there is also a line of Sperry sneakers, made of Canvas upper with a patch of leather on the heel collar. This line of Sperrys looks similar to Vans low-top shoes, but they're not available in plenty of colors and patterns like Vans.
A Brief Overview of Vans Shoes
In California, Vans shoes were first designed in 1966 for skateboarding. The first line of Vans shoes was named "Authentic." These were classic Vans sneakers with a sleek design. After that, modifications were made, and more support and padding were added in Vans shoes to meet people's demands.  A new version called "Vans Era" was designed with more ankle padding and robust construction. You can also check my guide on Vans Authentic vs Era to know more about their difference.
The final design that Vans introduced was "Old Skool." These Vans shoes feature additional leather panels on the sides, which serve as a style and lateral support in skateboarding.
Vans brand has manufacturing facilities all over the world. The main countries where Vans make their shoes are China, Vietnam, and The Dominican Republic.
A Brief Overview of Sperry Shoes
Sperry topsiders were first designed in 1935 when Paul A. Sperry, a yachtsman and inventor, came up with the idea for a new type of boat shoe that would provide a better grip for those on slippery surfaces. Like Vans, Sperry shoes are almost made in China and Vietnam.
Sperry topsiders have a non-skid outsole that features thin wavy patterns to keep the wearer standing firm on wet and slippery surfaces. Sperry topsiders feature two eyelets on the vamp that are just for giving a bit of a formal look. They serve no purpose in adjusting the fit. That's why wearers consider Sperry topsiders as slippers and love their easy-to-slip-on/off feature.
In 1960, the Sperry brand also introduced its line of CVO shoes, with Canvas upper. The design of shoes closely resembles Vans shoes as, in the same era, the Vans brand was founded to produce the same type of canvas sneakers. Sperry CVO sneakers have 5 to 6 eyelets like vans sneakers. However, the pattern on the outsole of Sperry CVO sneakers is the same as Topsiders.
Why Are Sperry Top-Siders Popular?
Sperry topsiders are popular due to their unique look. Sperry Top-Siders are a type of casual shoe designed for boating and other water-related activities. They feature a thick rubber sole, leather or canvas upper, round toe, and laces with metal eyelets.
They feature specially tanned leather that is stain-resistant against saltwater. The leather is soft and easier to break-in. The leather Sperry topsiders are so comfortable that even if they get wet and leather stretches, you can tighten it by the iconic channel of the lacing system.
Furthermore, the Sperry brand was the first to introduce classic moccasin toe stitching, due to which Sperrys boast an iconic design, which makes them visually appealing.  It also gives a bit of formal touch to the shoes to wear them as business-casual shoes.
Vans vs. Sperry Sole Design
All styles of Vans sneakers feature a vulcanized gum rubber sole, which is flexible, flat and provides a better board feel. Furthermore, the sole of Vans sneakers feature a waffled pattern for a better grip. You can also check out my guide on Vans shoes popularity to learn more about the vulcanization process of preparing their soles.
On the other hand, Sperry shoes feature different outsole designs. The Authentic Original line of Sperry shoes features a thin non-marking rubber sole design like the dress shoes. It is a cupsole that is stitched to the leather upper of Sperry boat shoes. It features a wave-siping pattern that offers an excellent traction whether you are on a wet sidewalk or boat deck.
There's one more line of Sperry shoes called Billfish. It is also stitched with the leather upper of Sperrys. Like Authentic Originals, this sole also features a wave-siping pattern for traction. But apart from that, the sole of Sperrys Billish is not completely flat like Sperry Authentic Originals and Vans. It is made thicker like orthopedic shoes with high arch support. Apart from that, it also features flexed grooves in the forefoot region to improve flexibility.
Here's a picture in which I've made a comparison between the soles of Sperrys and Vans.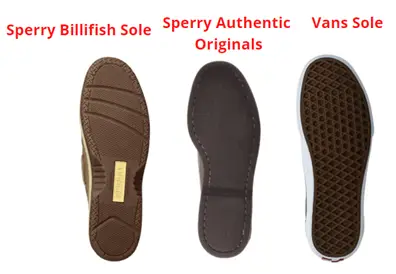 Vans vs Sperry Durability
In Vans sneakers, the sole is fused, glued and bonded with the upper using foxing tape that is wrapped around the perimeter of the shoe. Vans last a good while if they're not stained, and you use them as casual wear. But, since the sole of Vans shoes is bonded through a foxing tape, there are chances that the soles will come out faster than Sperry boat shoes.
Vans are almost half the price of Sperrys. So, if we consider the price, the durability of Vans is pretty good. Users have complained that the Canvas upper gets shredded and starts ripping off if you use Vans for everyday wear. On average, Vans with Canvas upper would last from one to two years.
Here's what the users comment on the durability of Vans on Reddit.

As far as the quality of Sperrys is concerned, they feature full-grain original leather that is smooth and holds up well. I asked a person on Reddit about the leather quality of Sperry boat shoes. Here's what he said:
The leather of my Sperrys (at least 2 years ago) is still excellent, especially for the price. My pair has been going strong for 2 years of daily wear (not a whole day, though), and I can see it going for a number more years.
Many people compare the leather of Sperrys with brands like Allen Edmonds, which is one of the most premium USA brands and have pretty expensive shoes. So, with $100 worth of Sperry shoes, trust me, you're getting excellent leather quality. Although the leather is slightly stiffer, it could maintain its shape for years.
Regarding the sole quality of Sperrys, wearers say that the heel protects the whole sole of Sperry boat shoes from wearing out faster.
This is what a wearer of Sperry's comments on the durability of their soles.
The Sperry boat shoes have solid construction. I'm surprised that the outer sole has survived so well, though there's a slight wear in the heel portion. Furthermore, the seams on the upper seem to be fairly little fraying after wearing them for 18 months.
Vans vs Sperry Comfort
Regarding the comfort of the sole, Vans sneakers are not good for long hours standing as they have pretty flat soles, consisting of a rubber which is not suitable for shock absorption. You can use Vans as a street style wear or wear them in the house. There is also a line of Vans Comfycush shoes with a bit of arch support and removable comfycush insole to enhance the comfort. You can also check my guide on Vans vs Keds to learn more about them.
Sperry CVO sneakers that look similar to Vans have a stiffer rubber sole compared to Vans' flexible soles. Wearers of Sperry CVO sneakers have complained that the shoes often hurt when they bend their feet because their sole is not bendy or flexible enough. Also, the back of Sperry CVOS dug into the heel.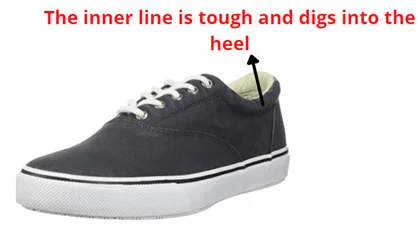 The sole of Sperry Authentic Originals is pretty thin as compared to Vans sneakers. You can't even stand on hard floors in Sperry Topsiders or use them for casual walks. The heel cup of Sperry AOs pushes hard on the back of your feet, due to which they start to ache.
The Billfish line of Sperrys also features a shock-absorbing heel pad, a sturdy EVA foam midsole with high arch support and a flexible rubber sole for better shock absorption so that you can use them as everyday walking shoes. Here's how a midsole of Sperry Billfish looks in the picture.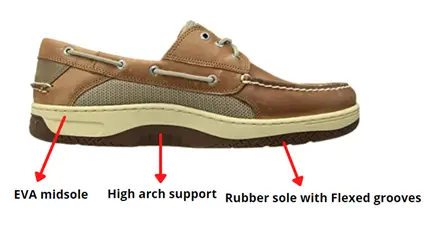 I've also found this great video on the review of Sperry Billfish shoes.
Like Vans, Sperry has also introduced a unique line of shoes called "Gold Cup" to enhance comfort. There's a deerskin lining on the inside and over the memory foam insole of the shoes that gives a great plush feel on the feet. The insole padding is thicker than Authentic Originals and more buoyant. However, the only downside of deerskin lining is that it sticks to your bare sole if you don't wear socks in these shoes and your feet get damped. Furthermore, the Gold Cup collection price is relatively higher than Sperry AOs, i.e., $150. So, to get extra comfort, you're paying almost extra 50 dollars.
Vans vs Sperry Shoes Sizing
Vans sneakers are available in standard widths only. However, you can also have the facility for customizing Vans shoes, but it'll cost you more. For men, Vans shoes are available in D widths, and for women, Vans shoes are available in B width. Vans generally run narrow at the tongue area. So, you can go for half a size bigger in Vans.
As far as Sperry boat shoes sizing is concerned, people face the issue of heel slippage when they buy the correct size. So, it is generally advisable to go for a half size down in Sperrys. Their leather is pretty soft and stretchy. So, after around one week of wearing them, Sperry boat shoes will fit comfortably. You can check out my guide on Sperry shoes sizing guide to learn more about the sizing criteria of Sperry shoes.
How Do Vans and Sperry Look with the Outfits?
Vans, specially Authentics, look great with jeans, shorts and a t-shirt. Sperry boat shoes are business-casual. They look good with a collared shirt or polo. Vans cultivate a younger look, while Sperry Topsiders deliver a more mature style.
Can I Wear Socks with Sperry Shoes?
Most people will say not to wear socks with Sperry boat shoes because it destroys the whole outfit. But, it is acceptable to wear socks with Sperry boat shoes as long as you wear them with long pants instead of khaki shorts.
However, if your feet release too much moisture and they stick with the lining of your Sperry boat shoes due to sweat, you can go for no-show socks if you wear Sperry shoes with khaki shorts.