Are On Cloud Shoes Good for Flat Feet?
If you're one of the many who suffer from flat feet, finding the perfect pair of shoes can be a frustrating endeavor. The wrong footwear can lead to aches, pains, and even injuries over time.
Recently, On Cloud shoes have gained popularity for their lightweight, cushioned design. But, are On cloud shoes good for flat feet?
In this comprehensive guide, we'll explore the unique structure and support system of On Cloud shoes. You'll learn how their features like the cushioned CloudTec sole and sockliner mold to flat feet.
By the end, you'll know whether On Clouds provide the arch support and stability flat feet demand. The decision is complex, but armed with the right knowledge, you can confidently choose shoes to reduce pain and stay active.
So, are On Cloud shoes good for flat feet? On Cloud shoes are not ideal for flat feet as most models lack arch support. However, some On Cloud models like the Cloudflyer provide good arch support and stability. But, they tend to be firm and stiffer rather than soft and cushioned. Moreover, the unique "cloud" sole of On Cloud shoes often collects debris. For flat feet specifically, proper support and cushioning are very important. While some have success with On Clouds for casual use, runners with flat feet overwhelmingly prefer other brands like Brooks, Saucony and New Balance which offer better stability technologies and accommodating fits.
What are On Cloud Shoes?
On Cloud shoes feature the proprietary CloudTec cushioning system, which uses hollow rubber pods on the midsole instead of traditional foam. This unique "Cloud" design aims to provide soft landings and explosive takeoffs. The pods compress individually on impact and rebound quickly to return energy.
Most On Cloud shoes have a low-to-moderate heel drop of around 6-9mm. They tend to have inflexible soles and narrow toe boxes. The shoes are on the heavier side compared to other performance trainers. On Cloud uses high-quality materials like mesh uppers but the CloudTec sole drives up the price.
Are On Cloud Shoes Designed for Flat Feet?
Let's examine the key elements of On Cloud shoes and analyze whether On Cloud shoes are designed for flat feet or not:
On Cloud Cushioning System
On Cloud shoes feature a patented cushioning system called "CloudTec" which uses hollow rubber pods on the midsole instead of traditional EVA foam.
According to On Cloud, this pod-based design provides a "soft landing and explosive take-off."
However, in reality many runners find these shoes to be quite firm with minimal cushioning, especially for longer distances. They offer less shock absorption and energy return versus foam-based midsoles from brands like Nike, Brooks, New Balance, Hoka and Saucony.
For flat-footed runners who need more shock absorption, the lack of soft cushioning in On Cloud shoes can be problematic and lead to discomfort.
The rigid pods do not compress much under pressure, transmitting more impact to the feet and joints. This may explain why some runners feel they are "running on bricks" in On Cloud shoes.
The CloudTec pods also create an uneven surface which some find disruptive to the running gait cycle. Flat feet already contend with overpronation, so uneven cushioning can further exacerbate this.
Lack of Stability Features
Stability is important for flat-footed runners to control excess foot motion and pronation. However, On Cloud shoes lack stability mechanisms like medial posts, anti-rollover geometries, or wide platforms found in traditional stability shoes.
The On Cloudflyer model provides some additional stability over other On shoes through its external heel counter and higher density midsole foam under the arch. But overall, On Cloud shoes are neutral shoes without pronounced stability elements.
The rounded podded sole of On Cloud is inherently unstable and flexible, whereas flat feet need a rigid platform for pronation control. The constant varying cushioning of the cloud pods also reduces stability.
Also Read: Best shoes for sciatica
Narrow Fit
Many On Cloud shoes have quite a narrow toe box area and snug midfoot fit. This can cramp flat feet which tend to splay outward and require more room up front.
Some runners with flat feet find their feet spilling over the sides of On Cloud shoes when running. This lack of interior space puts more pressure on the outer edges of the feet.
Wider feet need shoes that accommodate their full footprint. Forcing flat feet into narrow toe boxes leads to discomfort and pain on long runs. I would personally prefer New Balance and Brooks shoes for wide feet.
You can learn more here:
Running Experience
When evaluating the overall running experience, On Cloud shoes get mixed reviews from flat-footed runners.
The lack of cushioning in the firm CloudTec pods causes discomfort on longer runs for some. The peculiar podded sole also allows small rocks and debris to get caught in gaps, creating irritation.
Others find their arches and ankles get sore after running in On Cloud shoes without adequate stability mechanisms. This leads to reliance on external orthotics or insoles for arch support.
However, a few flat-footed runners do find On Cloud shoes comfortable for shorter runs at slower paces. The shoes provide some flexibility which is beneficial. But they are not suitable for long distances or fast speeds.
The verdict seems to be that while On Cloud shoes may work for casual wear or walking, other running shoes tend to better accommodate flat feet. Most competitors have softer midsoles, support features, and wider fits.
Comparison to Traditional Stability Running Shoes
When compared to reputable stability running shoes from other major brands like Asics, Brooks, New Balance etc. the On Cloud models come up short in terms of pronation control, cushioning and overall comfort according to most athlete reviews. They lack the pronounced arch support, medial posts and structured upholstery of traditional stability shoes.
Some Recommended On Cloud Models That Work for People
1. Cloudflyer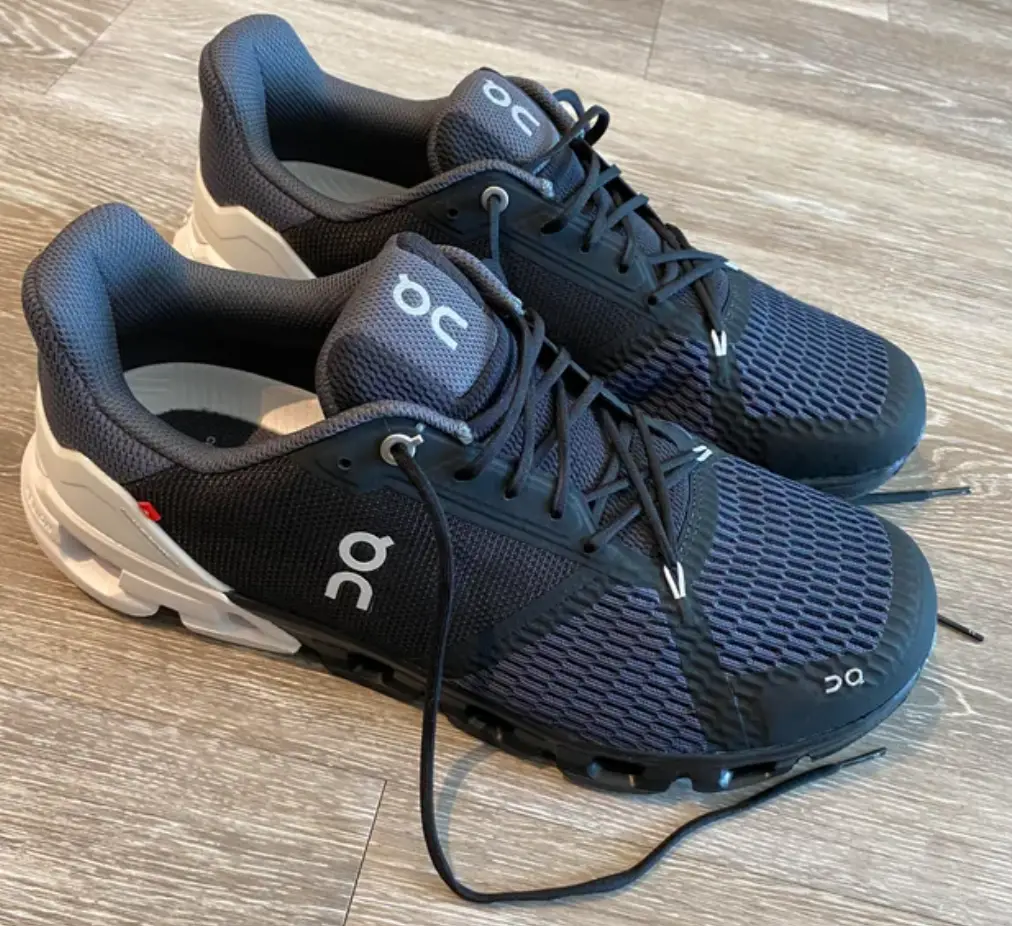 At first glance, the Cloudflyer's eye-catching sole with "cloud pods" seems gimmicky. However, many users are pleasantly surprised at how comfortable and supportive the shoes feel thanks to the responsive cushioning.
The wide platform offers stability, the cloud pods compress and rebound for impact absorption, and the rockered design encourages smooth transitions. The only frequent complaints are the narrow fit and firmness underfoot, especially in the forefoot.
Cushioning & Impact Absorption
The flexible cloud pods provide more rebound and energy return compared to traditional foam materials. This responsive cushioning softens impact and makes the shoe lively.
However, some flat-footed runners find it lacking in plushness and shock absorption, resulting in discomfort on longer distances. The forefoot in particular can feel too firm and inflexible. If you need ample soft cushioning, the Cloudflyer may not suffice.
Stability & Support
The wide platform, cloud pod design, and rubber outsole offer quite a stable base for flat feet that overpronate. The cloud pods compress individually to adapt to your foot's shape and movement.
However, there is no medial post or structure for motion control. For severe overpronators, the Cloudflyer alone may not provide enough support and control.
Fit & Sizing
Many users remark that the Cloudflyer runs short and narrow. The toe box is quite snug and tapered.
For flat, wide feet you may need to size up or try a wide width if available. The upper is softened by strategic stretchy bands.
The wide version of Cloudflyer has extra fabric around the forefoot to accommodate wider feet but uses the same sole and heel as the regular width version.
The toe box of the wide version feels roomy and accommodating for wider feet.
Intended Use
The On Cloudflyer seems optimized for shorter, faster runs up to 5K where you can take advantage of the energy return and transition smoothly through foot strikes.
For easy training miles, long distances, and heavy runners, the firm ride may be punishing. The shoe also works well for walking and casual wear thanks to the comfort from the upper materials and bold look.
2. Cloudsurfer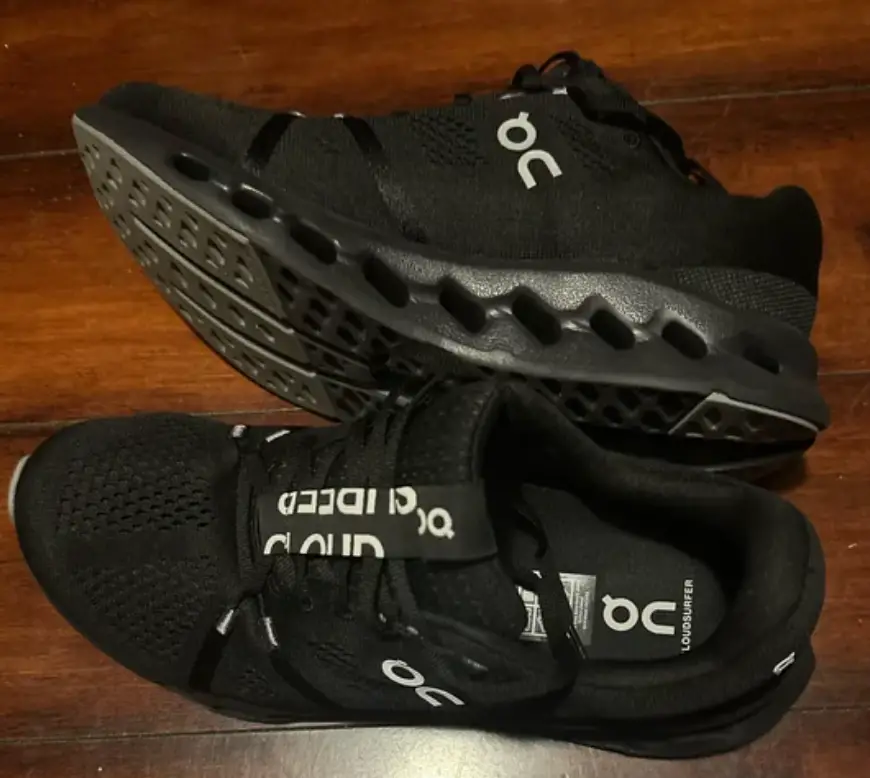 The Cloudsurfer 7 is praised for providing an incredibly comfortable underfoot experience, with some users comparing the cushioning to that of a sofa.
The midsole feels soft and plush, especially in the heel and midfoot areas, offering a comfortable and supportive ride. Its cushioning capabilities are often deemed superior to other shoes, such as the ASICS Novablast 3.
Springiness and Responsiveness
One notable feature of the Cloudsurfer 7 is its springy nature. It offers responsive feedback, allowing for a lively and efficient running experience.
Despite being great for absorbing shock, the shoe remains poppy under the forefoot, providing a sense of responsiveness that makes it suitable for faster-paced runs.
Lightweight and Agile
Compared to other shoes, like the Novablast 3, the Cloudsurfer 7 feels lighter and less bulky. This lightweight construction contributes to an agile and nimble feel during runs, enhancing the overall running experience.
Its design aims to strike a balance between cushioning and ground feel, allowing runners to maintain a good connection with the terrain while still enjoying sufficient protection and comfort.
Stability and Support
While some users noted concerns about stability, especially when compared to more structured shoes, stability was generally not a major issue during runs. The shoe provides decent stability, particularly after breaking them in.
Although initial reports mentioned possible instability in the heel, this seems to improve as the shoe adapts to the individual's foot shape. However, runners with pronation issues might require a more structured shoe for adequate stability.
Durability and Fit
The Cloudsurfer 7 is praised for its durable rubber outsole, which remains in excellent condition even after significant mileage, as reported by one user who covered 80 miles without noticeable wear.
The fit of the shoe is considered universal and comfortable, striking a balance between being snug and not too tight or loose. However, some users found the shoe to be too narrow for their feet, so individuals with wider feet may need to explore alternative options.
Potential Drawbacks
Like any product, the Cloudsurfer 7 is not without its flaws. Some users pointed out issues such as the lacing system causing discomfort and potential durability concerns.
Additionally, a few users expressed contrasting experiences or found the shoe too narrow. Nevertheless, these seem to be isolated incidents and didn't detract from the overall positive reviews received.
Comparison to Other Shoes
Compared to the Cloudmonster, the Cloudsurfer provides less cushioning but offers a more natural and flexible feel without the addition of a plastic Speedboard.
It sits between the softness and liveliness levels of the Nike Invincible and the Saucony Endorphin Speed, making it a favorable choice within the max cushion shoe category.
3. Cloud Monster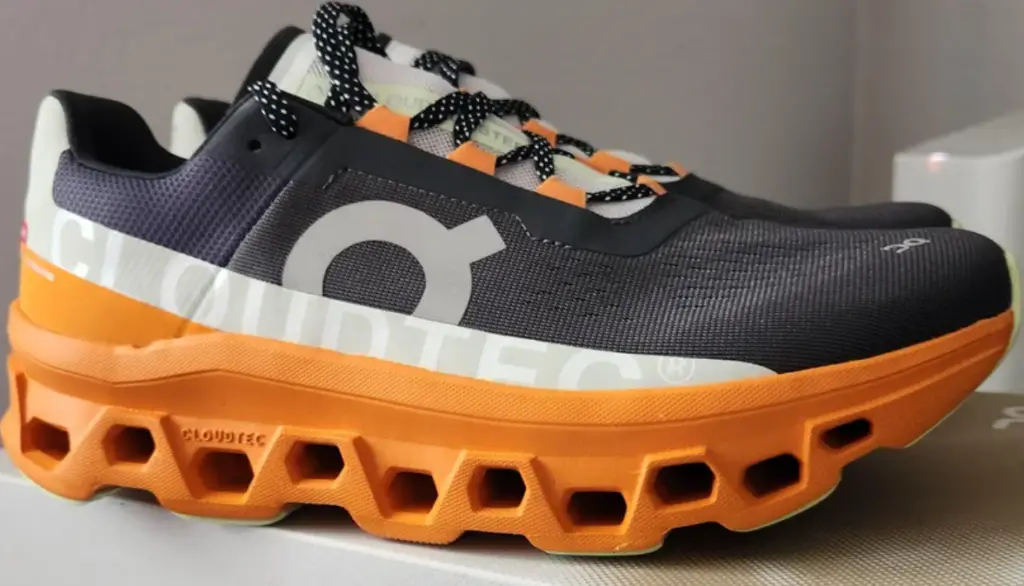 While the On Cloudmonster offers decent stability, it falls short of what true stability shoes provide. The shoe's midsole has a firmer feel, which can be beneficial for flat feet.
However, it's worth noting that the ride quality is not as soft or responsive as other options available at a lower price point.
If you prioritize a plush and bouncy feel, alternatives like the Saucony Velocity Nitro 2 and New Balance Fresh Foam might be better options for you.
Durability and Tread Life
One concern that users have raised is the Cloudmonster's durability. Some users reported that the foam tread wore out quickly, sometimes within 50-100 miles. This might be concerning if you're looking for a long-lasting shoe.
However, it's important to note that durability can vary based on factors like running style and surface. If durability is a top priority for you, considering other options might be wise.
Fit and Sizing
The On Cloudmonster offers a wider fit compared to Nike shoes like the Pegasus. However, it still may not be wide enough for some feet. It's recommended to try on the shoes to ensure a proper fit before purchasing.
The fit and comfort of the upper play a significant role in shoe performance, so finding the right size and width is crucial, especially for runners with flat feet.
Comparable Shoes and Recommended Uses
If you're familiar with shoes like the Hoka Clifton and Asics GlideRide, you'll find that the Cloudmonster provides a similar ride and cushioning experience.
However, it is a bit stiffer than the Nike Pegasus. These shoes are better suited for daily training or recovery runs rather than speed workouts. To enhance stability, some users found it beneficial to use arch support inserts.
Positive User Experiences
Despite some criticisms, the On Cloudmonster has received positive feedback from various users. Many find these shoes comfortable for long runs and half marathons.
The cloud cells in the shoes provide spring in each step without feeling overly squishy. Some users have even used them for multiple 100-mile trail runs and loved them when paired with good socks. The cushioning and roomy toe box make them suitable for training runs as well.
Concerns and Alternative Recommendations
However, it's important to consider some concerns raised by reviewers. Some users found the Cloudmonster to lack responsiveness and bounce during runs, making them feel flat.
This sentiment was further echoed by comments mentioning that the cloud cushioning didn't provide the expected bounce. For those seeking more responsive shoes, alternatives like the Invincible, NovaBlast, or racing shoes like the Vaporfly were recommended.
Mixed Opinions and the Importance of Upper Fit
Opinions on the On Cloudmonster vary, with some users praising the shoe while others remain underwhelmed.
One commenter stated that although the shoe is good for an On brand shoe, it falls short compared to the Vaporfly, which they deemed a "God-tier shoe."
It's important to note that Cloudmonster shoes are relatively unique due to the brand's gimmicky USP, which can make them feel like standing on a rigid plastic board, according to one reviewer.
Durability, Looks, and Size Considerations
Durability seems to be a mixed bag, as some users reported wear and tear after 320km, while others praised their long-lasting nature.
The look of the shoe also divides opinion, with some users finding them ugly and others appreciating the colorway. The toe box is described as roomy, allowing for a comfortable fit.
It's worth mentioning that the sole durability may not be on par with brands like New Balance, which utilize more outsole rubber. When it comes to sizing, going with your regular size might leave some wiggle room.
Wide Usage Recommendations and Comparisons
The On Cloudmonster is generally recommended for easy/long runs and daily training. Many users find the shoes comfortable and appreciate the cushioning they provide.
Some even believe that the ON shoes make them feel faster during easy efforts compared to other brands like Nike.
The shoes are said to handle a variety of runs, from fast track workouts to easy long runs. While they can be on the firmer side, some users value the responsiveness they offer.
4. Cloudstratus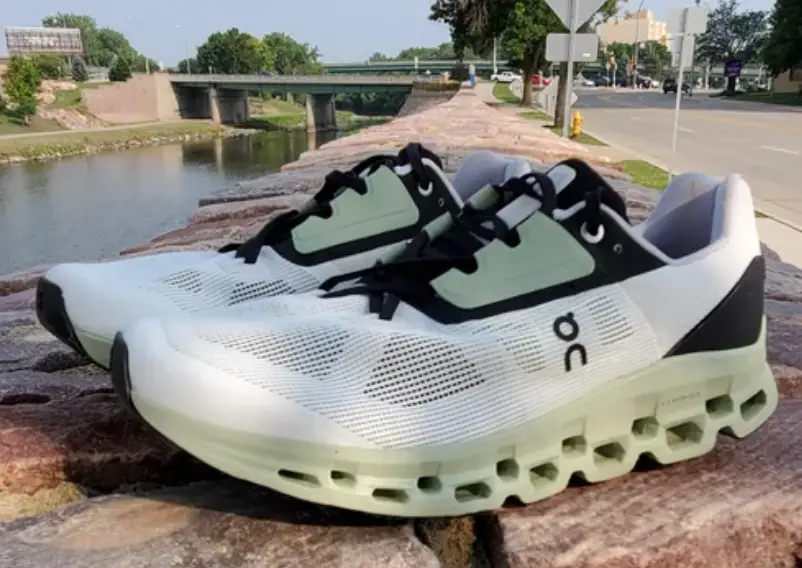 he Cloudstratus distinguishes itself by being softer and more stable underfoot, thanks to its improved upper hold, particularly around the ankle. Runners described the Cloudstratus as an exceptionally smooth and seamless experience.
In terms of walking comfort and adaptability over long distances, Cloudstratus is generally preferred over the Cloudmonster. The former also offers more cushioning, making it a better fit as a daily trainer.
What Do Podiatrists Recommend for Flat Feet?
Flat feet, also known as fallen arches, is a condition where the arch of the foot collapses and the entire sole of the foot touches the ground. This causes overpronation, where the ankle rolls inwards more than normal when walking or running.
Over time, flat feet can lead to foot pain, knee and hip pain, and increased risk of injuries. Fortunately, with the right footwear and orthotic support, flat feet can be managed effectively. Here are some recommendations from podiatrists on dealing with flat feet:
Arch Supporting Insoles or Orthotics
Custom orthotics or over-the-counter arch supports are often recommended by podiatrists as an effective solution. Custom orthotics are custom-made to fit your feet and provide optimum support and cushioning.
They help reduce overpronation by supporting the arch and positioning the foot correctly. Prefabricated orthotic inserts can also provide arch support but may not fit as well.
Materials like firm EVA foam or flexible plastics like polypropylene are used. Look for an orthotic that is rigid enough to provide support but has some shock absorption. Podiatrist-recommended brands include Superfeet and Vionic.
Choosing the Right Athletic Shoes
It's crucial to pick athletic shoes that complement your foot type. Go for shoes with good arch support, shock absorption, and a wide and high toe box. Softer midsoles that compress easily are not ideal.
A combination of proper orthotic inserts within a supportive shoe works very well. Recommended brands include Brooks, Asics, Saucony, New Balance, Mizuno, Nike, and Hoka One One.
Some specific models liked by podiatrists are Brooks Adrenaline, Asics Kayano, Saucony Guide, NB 860v10, and Hoka Arahi. Rotate between different shoes and replace them regularly before cushioning breaks down. Minimalist shoes with no support should be avoided.
Must Read: Best running shoes for achilles tendonitis
Rehabilitative Exercises
Specific foot exercises can help strengthen the arches over time. Exercises like toe curls, toe spreads, towel scrunches, marble pickups, and slant board stretches are easy to do at home.
Consider seeing a physical therapist who can prescribe a personalized set of rehabilitation exercises. They also offer treatments like ultrasound therapy, taping, massage, and stretching.