Can Women Wear Men's Shoes? (With Examples)
Sometimes, women get inspired by the aesthetics of the men's shoes, and each woman searches over the internet about: "can women wear men's shoes?"
Yes, women can wear men's shoes. But first, make sure the men's shoes fit you properly. Men with standard width feet may need a D width, while women with the standard width feet generally need a B width. Also, make sure that your foot size is larger than US9 women's size as men's shoes typically start from US7 size, which equals the women's size US9 or 8.5.
Furthermore, if you're not fond of some womanish fancy colors like pink, purple, etc., you can go with the men's shoes. Other factors like height, weight, and heel heights will also impact your choice of wearing men's shoes.
However, this isn't to say that a woman can wear just any type of men's shoes, but she should know the difference between those that will flatter her overall look and the ones that won't.
How Women's Shoes Differ from the Men's Shoes?
By design, any men's shoe can fit the women's appearance, provided that the outfit matches that shoe. This style represents the unisex shoe that several brands, including Vans, Nike, and Converse make.
Such unisex shoes, suitable for both men and women, typically include flat-footed sneakers, cross trainers, and sandals like Chacos.
However, some women's footwear with pointed and high heels such as flats from Tory Burch, high heel shoes from Demonia, or shoes with ankle straps that diverge away from the men's styled shoes. Such women's shoes are tighter than the regular unisex shoes as the toes often get crooked in them.
So, if you're leaning towards men's shoes from those types of footwear, then you might have to face some fitting challenges as such typical women's footwear can alter your feet' anatomy.
Factors Women Should Consider to Wear Men's Shoes
It's no doubt women can wear men's shoes. However, there are various factors you should consider carefully before buying your favorite style in men's shoes.
Fit
It's the most important factor you should consider if you're leaning towards men's shoes. The fit and sizing differences change with the brand. But, as a general rule of thumb, women's shoe size is 1.5 to 2 points less than the size of men's shoes.
So, if you typically wear US7 in your shoes, you should go with the US5 or US5.5 in men's shoes. However, certain brands don't make shoes in half sizes. So, you may have to go two sizes down.
It is essential to try on men's shoes before you purchase them, so you can be sure that they will look and fit nicely on your foot. If you're going to have them on all day, every day, then make sure they fit correctly.
Arch Support and Anatomical Difference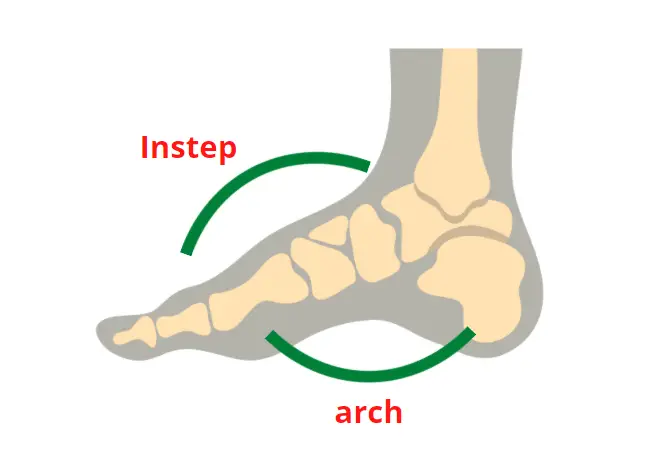 Many people have some misconceptions that women's feet are just smaller versions of men's feet. But that's not true. I found the article by shewear helpful to learn about foot structure differences for men and women.
Here's how women's lower body structure differs from that of men's.
Women have a wider pelvic region.
Women have shorter legs (the main reason for wearing pointed heels)
Women have a larger Q-angle from hip to knee region, which I've explained in this article with the illustration
Due to the above reasons, women tend to pronate more, due to which they require more arch support to avoid inward rolling of the ankles.  Women's foot ligaments are more flexible and tend to have more ankle mobility. Due to this reason, when a woman's foot hit the ground while walking, there is more pronation due to the flattening of the arch.
Another research on the comparison of male and female foot shape was conducted. It was found that the heel to the ball of foot length was longer for a man's foot. Moreover, widths at different foot regions, i.e., at the ball of foot, instep, and heel, have higher values than those for men's feet. On the other hand, height at the instep region was found to be higher for the women's feet. That represents that women have higher arches than men.
Furthermore, a research was also conducted to analyze the differences between men's and women's structure with respect to the shape and how they could lead to the shoe design. That research was carried out by taking around 26 different measurements of left and right feet. Those measurements indicated that at the same foot length, women's foot had narrower toe, and smaller instep circumference than the men's foot.
If you have any other concerns about wearing the shoe, then contact your general practitioner or local podiatrist for advice and assistance. Never wear a pair of shoes that do not fit properly. They can cause foot problems and even lead to possible permanent damage to your feet and ankles.
Cushioning
Men's feet have stronger muscles and a more stabilized posture due to which their feet are strong enough to bear the impact. On the other hand, women have sensitive muscles, and a larger angle between hips and knees can cause knee pain because the women's posture has to be stabilized by the ligaments, which are not as stronger as men's muscles.
That's why some women could need shoes intended explicitly for women, having anatomical arch support and higher cushioning to attenuate the effect of impact on the knees.
Can Women Wear Men's Running Shoes?
Yes, women can wear men's running shoes. It shouldn't be an issue as long as the shoe fits and doesn't have a significant difference in size, and you don't have any problems with their stability. But first, you need to check their padded insole and arch support to make them more comfortable for you, as some brands make women's specific running shoes.
Also, you need to consider when wearing a man's running shoe is its size. The women's shoe sizing system is not the same as for men, so you may need a different size to wear men's shoes, as I discussed above.
I also asked a woman on social media about her experience of wearing men's running shoes. Here's what she said:
I am a woman and wear men's running shoes. Women's shoes just aren't wide enough for me and make my feet hurt. Men's shoes are much more comfortable and feet my feet better. If they feel good on your feet, then wear them; it doesn't matter what gender they were designed for. I guess your only problem might be finding shoes small enough to fit you.
Famous brands of running shoes like Nike and Brooks don't have differences in their running shoes for men and women for the design and materials. They only have differences with respect to sizing and width. B is the standard width for women's shoes, and for men's shoes, D is the standard width.
A person also confirmed this from the support of Brooksrunning. This is what he said:
Confirmed with their customer support as well, no material changes or anything, strictly size/width.
But keep in mind that if your heels slip in men's running shoes, as women generally have narrower heels, you can lace them tightly so they don't slip at the heel. Also, if you have significantly high arches and feel some burning sensation, you should go for a dedicated women's running shoe.
If you need a certain kind of stability running shoes that are intended for women, you can go for Ryka trainers. The arch support of Ryka shoes is specifically designed based on an adult female's foot structure. Since women's feet have higher arches, you'll see that Ryka running shoes also have high arch support to conform to the contour of women's feet.
Can Women Wear Men's Dress Shoes or Chelsea Boots?
Many women find men's dress shoes, loafers, and oxfords more comfortable as they don't like high heels or flats that can cause lower back pain or foot problems such as bunions and ball of foot pain for hammertoes.
So, yes, women can wear dress shoes or Chelsea boots of men if you're comfortable with them. Generally, women have a shorter height than men, due to which they wear high heels to look taller. But, if height is not the issue for you, you can wear the dress shoes of men. However, the key in wearing dress shoes of either gender rests on the fit and size of the shoe, which is the same as I explained above.
Furthermore, I'd suggest you avoid dress shoes or oxfords with a cap toe as that doesn't match the female's appearance, no matter what outfit you would like to wear with them.
Also, it has been noted on many forums that men's dress shoes and boots are more durable and have better stitching quality.
On Reddit, I asked the question about their opinion on the quality of men's boots. Here's what she said:
I'm one of those people not too picky on comfort. However, I kept noticing men's shoes are often way better made for the price point compared to women's shoes. For example, my husband and I were looking for a new pair of weatherproof boots for him at DSW. We found a pair of real leather upper, great traction bottom, and some fancy gel cushioning insoles. They were $65, not even on clearance or anything. The only women's boots in genuine leather for that price were in the clearance section, and very few were made well at all.
Another woman, who works at a shoe store, shared his opinion on the leather quality difference between men's and women's boots.
When I worked for the shoe store, I sold both men's shoes and women's shoes. Many women bought the men's version of the signature shoe just because it's wider than women's shoes. Women who are larger in sizing also often found the men's section helpful since men's shoe sizing offers a greater variety of sizes. In contrast, in women's shoe sizes, companies limit what styles they offer when you reach the largest women's foot sizes.

EvaDarling
I have found that men's shoes are generally more durable than women's shoes. Men and women frequently got the same styles, with the men's version being made of stiffer leather and having thicker laces or being reinforced throughout. In contrast, the women's version would be softer leather that had been worn down more before hitting the shelves. It might only have one layer of material vs. the material + cotton padding and more material that made the men's version more durable.
So, those are the main reasons why women often like to wear men's dress shoes.
FAQs about Differences between Men's and Women's Shoe Sizing
How do men's sizes convert to women's?
Men's shoe sizes are 1.5 to 2 sizes larger than women's shoes. If you wear US7 size in women's shoes, you'll get a good fit with US5 or US5.5 size in men's shoes.
Do men's shoes run wider than women's?
Yes, men's shoes run a tad wider than women's shoes. Women's shoes have widths starting from A (Extra narrow), while men's shoes smallest width is medium width i.e., D.
Is it bad for a woman to wear men's running shoes?
No, women can wear men's running shoes, provided that they select the right size and width. But, if you've very high arches like typical women's feet, you need to wear women's specific running shoes, such as running shoes from the Ryka brand.